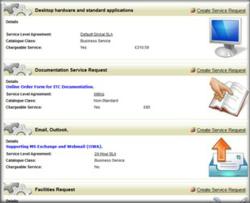 (PRWEB UK) 18 September 2012
IT Service Management (ITSM) specialist, Marval Software, has announced the release of MSM v12.5 integrated software which it believes out performs any 100% web-based ITSM software on speed, functionality and scalability.
MSM v12.5 contains over 20 major functional improvements, highlights include:

New cutting-edge request modelling – intuitive, easily configurable business logic with no scripting, coding or professional services required.
Simplified self-service web page design – customers can quickly create their own self-service pages supporting their service portfolio. A menu-driven approach ensures no coding or programming knowledge is required.
New major incident command and control function – complementing the advanced Service Level Management and tracking functions within MSM, this functionality provides pre-determined, timed communication updates for stakeholders to review progress during the lifecycle of a major incident.
MSM v12.5, ITIL ® process compliant software delivers a combination of ITSM process automation, continual service improvement, functionality, flexibility and scalability with powerful business analytics. It can be exploited in any organisation and department requiring service and support, including IT, Shared Services, HR, Fleet, Facilities and Financial Services.
For further information please contact:
T: +44 (0) 1536 711999 E: info (at) marval (dot) co (dot) uk W: http://www.marval-group.com
Editors Notes
Marval is committed to the ongoing development of integrated ITSM software, consultancy and education. It is a single-source supplier for all ITSM needs, designed to improve service quality, productivity, customer satisfaction and reduce costs. Marval is a major practitioner, innovator, thought leader and contributor to Best Practice and standards in ITSM and is co-author of ITIL and ISO/IEC 20000. It has been helping customers deliver service excellence since 1989 and understands what it takes to become a world-class service team.
Marval is an ISO/IEC 20000 registered company supporting internal and external customers to international standards.