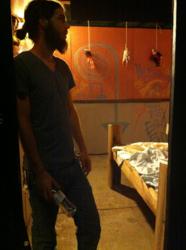 No one will leave not screaming.
Mason, OH (PRWEB) September 12, 2012
On Friday, Sept. 28, Independent filmmaker Josh Hasty, with influences from famous musician and filmmaker Rob Zombie, will launch "ScareDown," a new haunted attraction in Warren County.
Hasty worked previously with Rob Zombie in his filmmaking career, and Zombie lent his expertise during the conception phase of "ScareDown". Zombie's bassist, Piggy D., designed the official "ScareDown" logo.
Located in Waynesville, Ohio, "ScareDown" is not a typical haunted attraction, according to Hasty. "Growing up going to haunted houses, I always felt like I would get super excited, wait in line two hours, and then be pushed out the door looking for something else to do for the rest of the night, he said" In response, Hasty and his team worked to create an atmosphere he describes as a real "Halloween Town," and have developed a no-line ticketing system that allows visitors to relax and see the rest of the property while they wait, instead of holding their place in line.
"ScareDown" has a real-life haunted farm house on the property, where gruesome murders reportedly took place. Hasty and his colleague personally camped out in the house with a ouji board, to see for themselves if it was really haunted. Hasty and his colleague said they communicated with a spirit named "Elizabeth" who promptly told the two, "leave!"
"Some people roll their eyes when I tell them about it," Hasty said. "So I invite them on a solo tour of the house at night. No takers yet."
Hasty and his team have transformed a real barn into a fear-induced attraction that Hasty promises will live up to the name "ScareDown". The barn uses state-of-the-art sound, lighting and effects to create a theatrical, in-your-face experience designed to give you goose bumps and raise the hairs on the back of your neck. "No one will leave not screaming," Hasty said.
Hasty suggests that guests take the 10-minute glow-stick ghost tour in the main house first, before heading into the barn. "The house is the book, and the barn is the movie," Hasty said. "It's more real to the visitor when they hear the story from our tour guide first, then go through the barn."
Outside of the haunted attractions, guests can enjoy a pumpkin patch, hayrides, a bonfire, a gift shop, family-style entertainment, food and drink beginning at 11 am on operating days. Regular hours after opening weekend are Thursdays, 11 am to 10 pm, Fridays and Saturdays 11 am to 12 am, and Sundays 11 am to 7 pm. Tours of the house and barn will not be available on Sundays. Closing times reflect when ticket sales stop for the night. For more information, visit http://www.scaredown.com.
Warren County is host to a variety of haunted attractions this fall.
The Chambers of Horror in Middletown
Start the haunting season off right with the Chambers of Horror in Middletown. This haunted house features a 30-minute scare with more than 30 rooms and 100 doors. Operators say this is definitely not for the faint of heart, children, or anyone with claustrophobia. Chambers of Horror is also open on special days for October 29, 30 and 31.
Dates: September 14 to October 27, Fridays and Saturdays, beginning at dark
Admission: $12; For VIP admission to skip long lines, $17
For more information: http://www.thechambers.org
Halloween Haunt at Kings Island
Halloween Haunt at Kings Island features more than 500 ghastly creatures emerging from the darkness, highly-intense attractions and some of the most hair-raising rides on the planet like the Beast and Diamondback roller coasters. New attractions include Madame Fatale's Cavern of Terror and
Blood Drums, a new show in Action Zone in which guests will feel the pulsating power of rapturous misfit drummers in this percussive blood bath of rhythm and music. Returning attractions include such favorites as Cut Throat Cove, The Slaughter House, Club Blood, and the smash-hit vampire musical revue Hot Blooded. Halloween Haunt is included free with park admission to Kings Island. Kings Island 2012 Gold and Cedar Fair Platinum Season Pass holders have unlimited admission to Halloween Haunt.
Dates: September 21 to October 27, Fridays and Saturdays, 7 pm to 1 am
Admission: included free with park admission
For more information: http://www.visitkingsisland.com/haunt
Springboro Haunted Hayride & Black Bog
For 20 years, the Springboro Haunted Hayride has led people through a dark and twisted landscape. Every corner in the mile long trail is teaming with renegade clowns, lost souls, and violent creatures. The Black Bog haunted trail will wind guests through even more terror. Springboro's haunted attraction is open Fridays and Saturdays this fall.
Dates: September 21 to October 27, Fridays and Saturdays; rides start 30 minutes after sundown
Admission: Combo Ticket: $18; Haunted Hayride Ticket: $12; Black Bog Ticket: $10
For more information: http://www.springborohauntedhayride.com
Morgan's Spooktacular Haunted River
Over three haunted weekends in October, Morgan's invites families to hike through the Forest of Lost
Souls on the way to a short, guided raft ride on the Haunted River. Enjoy a bonfire and movies, or stop by the deli, where beverages, food and sweets will be available for purchase. Due to some of the scary imagery, Morgan's Outdoor Center recommends this event for kids ages 7 and up. Parents should use their own discretion for younger kids. Reservations required for groups of 10 or more, and are highly recommended for all.
Dates: October 5 to 27, Fridays and Saturdays, 7 to 11 pm
Admission: Adults: $15; with reservations: $13; Children (12yrs. & under): $10; with reservations: $8
For more information: http://www.morganscanoe.com
Lebanon Theatre Company Hauntings
Back by popular demand, the Lebanon Theatre Company (LTC) is once again inviting ghosts to haunt its theater this Halloween. On Friday Oct. 19 and Saturday Oct. 20 at 8pm, the Lebanon Theatre Company presents the Lebanon Theatre Hauntings. The evening will feature three local performers, presenting Halloween-themed comedy magic, disturbing stunts, and closing with a psychological journey to one of England's most notorious asylums. LTC warns that this event is "rated" PG-13, as some of the subject-matter may be too intense for persons under 13 years old.
Dates: October 19-20, 2012
Admission: $13 per person; contact the Lebanon Theatre Company for tickets at (513) 228-0932
For more information: http://www.ltcplays.com
For an extended list of activities, visit http://www.ohioslargestplayground.com.
About the Warren County Convention & Visitors Bureau:
Warren County is Ohio's Largest Playground! With easy access from Interstates 71 and 75, visitors to Warren County can enjoy more activities within a 30-mile radius than anywhere else in Ohio.
The Warren County Convention & Visitors Bureau is a professional destination marketing organization committed to economic growth by increasing overnight and year-round visitors.
Tourism is the leading industry in Warren County. The 7.8 million yearly visitors drive an economic impact of $993 million and 10,657 tourism-related jobs.
For additional information, visit http://www.ohioslargestplayground.com or call 800-433-1072.
Warren County is Ohio's Largest Playground!®