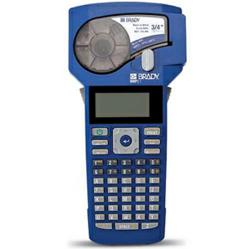 "We received a Brady label printer from Creative Safety Supply and it was so easy to install with our current Window software. We were up and running in a matter of minutes."
Lake Oswego, OR (PRWEB) September 15, 2012
Creative Safety Supply has come out with a new Brady label maker that is a portable hand held printer that will quickly and easily create clear, eligible, quality labels. Busy workplaces that require inventory to be labeled through warehouse labeling systems or industrial or electrical crews out in the field could benefit from the BMP21 portable label printer. The all-in-one labeler can be voice or data communicated and can be operated by one hand. The large backlit display is easily read for indoor and outdoor use. The dual cutter buttons hold the label until the operator needs it. There is also a multi-function accessory available with a magnet, flashlight and wrist strap that will make any job of labeling anywhere and anytime quick and easy. The labels that are made from the printer are made of a durable material that will hold up under the harshest environments and will stick for years despite extreme temperatures, curved or textured surfaces.
Any business, be it small or large, looking to make large, high volume sign makers or require smaller compact printing will receive great performance and benefits by use of the Brady Industrial Printer. The selection of industrial label printers through Creative Safety Supply will work with most Window compatible software, including MS Word, Photoshop, Excel, OpenOffice, MS Paint programs and many more. As one business owner commented, "We received a Brady label printer from Creative Safety Supply and it was so easy to install with our current Window software. We were up and running in a matter of minutes."
Please visit http://www.creativesafetysupply.com for more information on Brady Industrial Printers and for all safety product needs. Or call toll-free (866)777-1360 to talk to one of the reputable agents that can answer all your questions.