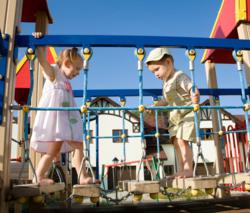 Lexington, VA (PRWEB) September 14, 2012
Children today are playing less than any previous generation, making playgrounds more critical than ever. ParknPool strongly believes it's time to address the "play deficit" problem in this country. Play is necessary for a healthy balanced life. Outdoor play is critical due to the various ways culture is taking outdoor play away from young children. With ParknPool's outdoor playground structures, children are able to make a mess, run, jump, and hide; they can shout, whistle and explore the natural world.
This play deficit may be attributed to a lack of places to play, and children not being given adequate time to play. According to Kaboom®, only one in five children in the United States lives within a half-mile of a park or playground. ParknPool believes that it is time to take action to combat the low amount of time that children are able to play. In 2011, ParknPool introduced a new selection of preschool and school age playgrounds. Each of these play structures has several activities designed to challenge and encourage the physical, social and mental development of children up to age twelve.
ParknPool added these commercial playgrounds to advocate decreasing the play deficiency in children. Children will be inspired and energized with the ladders, climbers, activity panels and slides that have been incorporated into the playground systems.
ParknPool knows that play is a critical component to a child's physical, intellectual, social and emotional development. In a recent study performed by the Kaboom organization, it was discovered that neighborhoods without a park or playground had an obesity rate of 29% higher than children living within a half mile of a play area, and without ample play a decrease in creativity and imagination will continue in the younger generation. This same study found that children who don't play will not learn how to work in groups, share, negotiate, or resolve conflicts.
Purchasing a new playground system through ParknPool will help in lowering the play deficit of young children. To learn more about ParknPool's playgrounds and extensive line of children's furniture, call 877.777.3700 or visit http://www.parknpool.com.
About ParknPool Corporation:
ParknPool is Veteran Owned SBE/WBE Company and is the leading online supplier of commercial outdoor furniture and site amenities such as picnic tables, trash receptacles, park benches and bleachers. ParknPool was begun in 1998 in Orlando, FL and moved their headquarters to Lexington, VA in 2005.