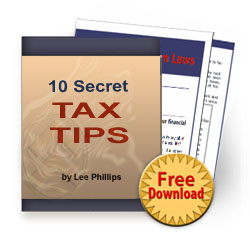 The government is trying to pass laws to reposition the IRS to redistribute wealth
Phoenix, AZ (PRWEB) September 13, 2012
Business Structuring and Tax Planning Attorney Lee Phillips will be addressing the Phoenix Chapter of AZREIA on Thursday, September 13, 2012. The title of Mr. Phillips speech is "Tax Tips: How to Lower Adjusted Gross Income" Mr. Phillips will explain how to use the law and a business to lower taxes and keep Uncle Sam at bay.
Visit LegaLees to download 10 tax tips for this year
Under the current administration the tax planning game is changing fast. "The government is trying to pass laws to reposition the IRS to redistribute wealth," says Lee Phillips. "These changes are going to have a significant effect on the average individual's money making potential. This year the first shock waves will hit their bottom line."
From a lawyer's perspective, there are a number of legal things that can be done to help folks survive the down turn, the tax increases that will come. One of the best ways is to lower Adjusted Gross Income (AGI).
It is not just taxes; there are legal sharks circling to tear small folks apart just to please some frivolous litigant. In hard times, frivolous litigation increases, identity theft goes up, successful businesses become hated targets, because they make money, they are targeted as "rich". In today's economic and legal environment, everything is exposed and could be lost in an instant.
Go here to get some of the latest tax strategies
Mr. Phillips is an tax planning and entity structuring attorney who has addressed thousands of men and women on these topics. Mr. Phillips serves as a counselor to the Supreme Court of the United States. He finds fulfillment in helping other people apply the law, not only to provide asset protection and estate planning, but to use it to structure businesses and save taxes helping them reach new financial heights.
Mr. Phillips is the author of 11 books, along with his latest book Guaranteed Millionaire. He has written hundreds of articles for professional people assisting them in finding various strategies to use the law to protect their property, save taxes and make additional money.
AZREIA Arizona Real Estate Investors Association is an association which specializes in helping members unwind the problems of investing in real estate. It was just voted, for the fifth time, the #1 REIA in the country!
The evening meeting, which is open to the public, will be held on Thursday, September 13, 2012: 24th Street Conference Center in Phoenix, Arizona. Mr. Phillips presentation will begin at 6:00 p.m.
For more information please visit http://www.Legalees.com