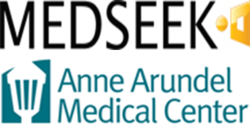 By more precisely getting information into the hands of folks who need it most, our innovative vision for 'Living Healthier Together' as a community will become more of a reality, said Chad Dillard, AAMC Executive Director of Marketing and Wellness.
Birmingham, AL (PRWEB) September 13, 2012
MEDSEEK, the provider of the healthcare industry's only strategic patient engagement platform, announced yesterday that it has signed a deal with Anne Arundel Medical Center (AAMC) in Annapolis, Maryland to deploy its ecoSmart Patient Precisioning consumer and patient predictive analytics and marketing solution.
Leveraging national, local and AAMC's patient encounter data, MEDSEEK's ecoSmart Patient Precisioning CRM solution will employ scientific models to help the Annapolis, MD based health system identify individuals most likely to develop a specific medical condition or require a specific medical procedures or service, as well as individuals at risk of developing chronic disease. Leveraging this information, MEDSEEK's Account Management experts will assist the organization in executing campaigns to reach patients in need with the right message to elicit the desired response.
AAMC specifically selected MEDSEEK as their predictive analytics partner because the powerful combination of the science and expert consulting services will help them be more precise in targeting individuals at risk with exactly the right message, helping the organization spend less on marketing to consistently achieve better response rates. AAMC will leverage ecoSmart Patient Precisioning not only in the traditional marketing sense to drive service line revenues and market share, but to proactively send health and prevention focused messages to patients in the central and southern Maryland area most likely to develop a serious medical problem. By helping patients understand how medical services available at the medical center can improve their quality of life or reduce their risks for developing serious conditions like diabetes and heart disease, the growing health system expects that MEDSEEK's ecoSmart Patient Precisioning will help many patients live longer, healthier lives.
"Our 10-year strategic plan revolves around helping community members best use technology to drive individual health decisions as well as make care more affordable," said Chad Dillard, AAMC's executive director of marketing and wellness. "By more precisely getting information into the hands of folks who need it most, our innovative vision for 'Living Healthier Together' as a community will become more of a reality."
"MEDSEEK is delighted to have been chosen by Anne Arundel Medical Center," said Peter Kuhn, MEDSEEK CEO. "We enjoy working with organizations with innovative leaders who are looking for better, more cost effective ways to find, attract, and engage patients and demonstrate a hard return on their marketing investments. As their strategic patient engagement partner, we also hope to help them achieve the goals outlined in their 2020 vision 'Living Healthier Together' which is focused on empowering patients to become more involved and active in their healthcare."
To learn more about how MEDSEEK is helping Anne Arundel Medical Center and other healthcare organizations find, attract and engage patients, visit us at SHSMD, booth 209 or visit http://www.medseek.com.
About Anne Arundel Medical Center
Anne Arundel Medical Center (AAMC) is part of Anne Arundel Health System. Anne Arundel Health System is the parent organization of AAMC, Anne Arundel Diagnostics Imaging, Pathways Alcohol and Drug Treatment Center, and three satellite locations: AAMC Health Services in Bowie, Waugh Chapel and Kent Island. AAMC, founded in 1902 as the Annapolis Emergency Hospital, is a not-for-profit hospital that provides acute inpatient and outpatient care to residents of the region, encompassing Anne Arundel, Prince George's, Queen Anne's and Calvert Counties. Visit http://www.askAAMC.org to learn more.
About MEDSEEK
Since 1996, MEDSEEK has focused exclusively on creating a strategic patient engagement platform comprised of web, mobile, social and predictive analytic solutions designed to meet the unique needs of healthcare consumers and patients. Maximizing an organization's existing IT investments, MEDSEEK solutions improve patient access to health information and provide convenient, self-service tools that improve satisfaction, activation and health outcomes. With MEDSEEK, hospital and health system clinicians and employees can better predict the needs of their patient population, uncover new sources of revenue, empower patients and families as participants in their care, lower healthcare costs, and provide a superior online healthcare experience that results in lasting health-related loyalty. MEDSEEK has over 200 customers representing over 1,100 hospitals including many of the top hospital systems in the United States and Canada.