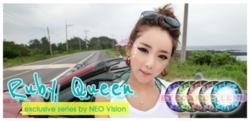 "Originality is simply a pair of fresh eyes." - Thomas Higginson
International News (PRWEB) September 14, 2012
As an innovator and one of the first in the industry, EyeCandy Lens prides itself on being ahead of the game by offering the latest designs worldwide. With 400 plus designs and prescription lenses in stock, and new lens products being added every month, EyeCandy Lens is gaining a lot of attention and a loyal customer base.
This year's annual rewards include $5 and $10 gift vouchers redeemable towards future purchases, and/or one to two free pair(s) of lenses of your choice (except Toric lenses) that are of equal or lesser value to the original pair purchased. The Rewards Programme starts off at an original purchase of $55 or higher.
All you have to do to receive these amazing rewards, is mention "Rewards Programme" in the comments box when you checkout online at EyeCandy Lens' official website and your gift voucher code will be e-mailed to you instantly.
Your lenses will be imported directly from Korea and there is free worldwide shipping for all lenses. The company also guarantees 100% authenticity. Credit card and debit card are both accepted through PayPal payment gateway.
Pick colored lenses that fit your individual identity and originality. As Thomas Higginson says, "Originality is simply a pair of fresh eyes."
About Us:
EyecandyLens.com is an online marketer of cosmetic color circle lenses and beauty online shop. They are dedicated to helping their customers enhance their shopping confidence and charisma through a novel beauty tool.