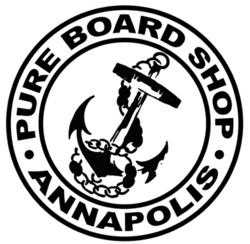 Annapolis, MD (PRWEB) September 14, 2012
Pure Board Shop has been carrying the Nike Snowboarding line for 4 years now and the Kaijus are a hit every year. The two colorways that Pure currently has are the Gold Leaf and the Black Cement. These are Brand New for 2013. The gold leaf boots are inspired by the classic Timberland Boot, while the Black Cement feature an elephant print that was inspired by the Jordan 3 Sneaker.
The technology and innovation put into this boot is unreal. They feature a TPU back stay for protection and a super snappy flex. They have an Articulating Flywire Cuff for increased heel hold while decreasing bulk around ankle. These boots also have Nike's Lace Lock that ensure your boots wont loosen up. This system also provides zonal tightening. The liners are temperature controlled with Outlast that breath beautifully. All of these features combined with the super cushy Zoom Air insole make these one of the most comfortable boots on the market. Shop Manager Josh Menocal says, "In the four years we've been carrying these boots, I've had two people not buy these after putting there foot in them. The boots sell themselves."
Pure Board Shop opened its doors on May of 2005. Its ease of access and parking make it a destination shop for riders and urban street ware fans alike. With their mix of products and variety in skate, Snowboard , surf and exclusive streetwear and shoe brands Pure's customers extend far beyond their Annapolis location. Pure prides itself on making customer service its number one priority, with product knowledge and having the right product mix a close second. The store and the website feature an ever growing brand inventory such as Nike SB, Nike Snowboarding, Lib Tech, Adidas skateboarding, Vans, Levis Skateboarding, Diamond, HUF, LRG, Neff, RVCA and The Hundreds, as well as a large selection of Sunglasses and other accessories. The shop also prides itself on having the largest variety of longboard equipment in the area; with brands like Land Yachtz, Rayne, Caliber, Cult Wheels, Abec11 and many more. Pure puts on monthly skateboard jams/events in their local skateboard park as well as sponsors many longboard slide jams and races in the DC Metro Area.
Contact Pure at 410-267-7669 or visit them on the web at http://www.facebook.com/pages/Pure-Board-Shop/8588010943?ref=hl
Also, Pure's new website will be up and running any day now, so keep an eye out for that!