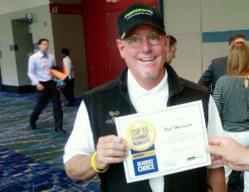 I treat it as my business; I'm not going to clock out at 5:01. If it's important to the dealer, it's important to me. I'm always available.
Encinitas, CA (PRWEB) September 13, 2012
FreedomVoice Systems, one of the largest US providers of cloud-based VoIP phone systems, today announced Bob Harrison, southwest regional channel manager, has been awarded by Channel Partners Magazine as a Top 15 Channel Manager for the third consecutive year.
"We are pleased to once again honor the year's top channel managers," said Khali Henderson, editor-in-chief of Channel Partners. "Each one has earned the demonstrated respect and loyalty of their partners, and it's a pleasure to be able to recognize the winners for a sixth straight year."
Harrison was honored during the general session at the Fall Channel Partners Conference & Expo in Orlando. He will also be profiled in the October issue of Channel Partners magazine and in an online photo gallery on the Channel Partners website.
Harrison attributes his success to his relentless work ethic. "I treat it as my business; I'm not going to clock out at 5:01. If it's important to the dealer, it's important to me. I'm always available," added Harrison. "I truly enjoy my work."
Harrison has been the southwest regional channel manager for FreedomVoice for nearly four years, and he has been in the indirect channel for more than 10.
It is with channel managers like Harrison continuously going above and beyond to support FreedomVoice's local dealers that has helped grow FreedomIQ to be one of the leading business phone systems in the country.
About FreedomVoice
FreedomVoice Systems was founded in 1996 and today serves nearly 30,000 customers nationwide. It got its start providing virtual phone systems to small businesses and Fortune 500 companies alike. This service remains a key offering from FreedomVoice, including business-enhancing features such as 800 numbers, an auto attendant, call forwarding, and voicemail-to-text. FreedomVoice launched the FreedomIQ hosted VoIP phone system product in 2006, responding to overwhelming business demand for cloud-hosted phone service. All of FreedomVoice's platform technology has been developed in-house to provide a unique, customizable, and flexible solution that works with any company's workflow. Based in Encinitas, CA, FreedomVoice is privately-held and remains profitable through strategic partnerships and the agility to develop new technologies at the head of the curve.
For more information, please visit the company's websites at http://www.FreedomVoice.com and http://www.FreedomIQ.com.
"FreedomVoice" and "FreedomIQ" are registered trademarks of FreedomVoice Systems.