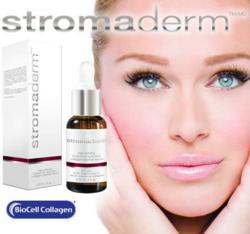 We're pleased to introduce Stromaderm as the compliment to one's age-defying regimen. Our star ingredient, BioCell Collagen CG, coupled with a proprietary blend of ingredients that support skin health and resiliency.
Anaheim, CA (PRWEB) September 12, 2012
Jusuru International, Inc. held its third annual convention, Rise to Enterprise 2012 on September 6-8th in Anaheim, California. The company welcomed their Independent Representatives (iReps), who received three days' worth of training on a wide range of topics including product knowledge, compensation plan, and business building and planning techniques. The trainings were conducted by top level (Enterprise) iReps and Jusuru executives. In addition to providing advanced training and networking opportunities, Rise to Enterprise 2012 allowed Jusuru International and its iReps the opportunity to celebrate a year of rapid expansion and growth. The conference was Jusuru's largest and most successful event to date.
Rise to Enterprise 2012 featured several high profile motivational speakers, as well as business training sessions. The event's featured speaker was Darren Hardy, a leader in the personal development industry for seventeen years, and publisher of Success magazine. Mr. Hardy delivered the keynote address titled "The X-factor: How to create a culture of personal growth and high performance", which focused on the common traits and skills of ultra-successful individuals. For the second year in a row, Nicki Keohohou, CEO of the DSWA, conducted the ELITE express leadership training exclusively for the Jusuru iReps attending Rise to Enterprise 2012. Jusuru International used the 2012 convention as a platform to launch several new products. Perhaps the largest announcement of the event was the unveiling of Stromaderm™, which is Jusuru's first foray into the world of skin care. Stromaderm™ features BioCell Collagen® CG™ (the topical version of the star ingredient found in Jusuru Life Blend), as well as a proprietary blend of antioxidants and other innovative cosmetic ingredients targeting signs of aging. Stromaderm™ collagen peptide and hyaluronic acid serum has been designed to hydrate, moisturize, and visibly defy the signs of aging. Asma Ishaq, Jusuru's president who's nutritional and skin care product development serves the company well, stated, "We're pleased to introduce Stromaderm as the compliment to one's age-defying regimen. Our star ingredient, BioCell Collagen CG, coupled with a proprietary blend of ingredients that support skin health and resiliency. Coupled with Jusuru Life Blend, our customers and independent representatives have what they need to replenish the building blocks of joint cartilage and skin dermis, both of which undergo degradation as we age."
The other new product announcement was Jusuru Equine Blend™, an advanced joint health formula specifically made for horses. The Jusuru R&D team was inspired by the influx of iRep emails and calls clamoring for an equine friendly Jusuru product, which occurred almost immediately after the announcement of the Jusuru Pet Blend™ earlier this year.
In addition to product announcements, iReps in attendance were the first to learn about two never-before seen marketing tools at their disposal. The first tool is http://www.JusuruBuilder.com, which is a comprehensive marketing system designed specifically for Jusuru iReps. Jusuru Builder combines nearly every aspect of lead generation, prospecting, marketing, organization, conversion and duplication into one easy-to-use tool. The second new marketing tool titled 'Science Behind the Beauty Within' was also revealed at the conference. The tool is a collaboration of various before/after pictures, scientific literature, graphs/charts and product information, which have all been compiled into one portable and tabulated booklet.
Featured in this month's Direct Selling News as the Young Company Focus, Jusuru International has also released information concerning events that will be conducted throughout the next calendar year including:

Vancouver Launch – October 20th, 2012 at the Best Western Plus Convention Center in Vancouver, BC, Canada.
Jusuru Getaway 2013 in Montego Bay, Jamaica. The incentivized getaway will take place June 5 – 9, 2013.
Jusuru Regional Training in Palm Beach Gardens, Florida. The training is scheduled for February 8-9, 2013.
Rise to Enterprise 2013 in Anaheim, CA. The fourth annual company convention dates are September 19-21, 2013.
About Jusuru® Life Blend™, Jusuru's flagship product:
Jusuru Life Blend™ is an innovative healthy-aging nutritional supplement that not only promotes healthy joints and more youthful-looking skin, but strengthens the weakened antioxidant and anti-inflammatory defense system in the body. Jusuru Life Blend™ is unique in that it exclusively contains a liquid form of BioCell Collagen®, a naturally occurring matrix whose three major constituents, hydrolyzed collagen, chondroitin sulfate and hyaluronic acid, are reduced to highly-bioavailable, very low molecular weight forms due to its patented hydrolysis process.
About Jusuru International, Inc.:
Jusuru International, Inc., headquartered in Anaheim, California, is committed to delivering the most advanced nutritional supplements and skincare made with the highest quality ingredients and meticulous care. Jusuru's executive team supports the company's rapidly expanding network of independent representatives with decades of experience in health, science and business.
For more information on Jusuru products or the company, please contact Jusuru International, Inc. at (888) 862-3968 or visit http://www.jusuru.com.