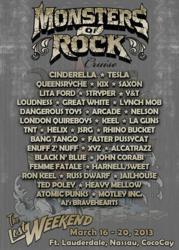 This is more than a music cruise...it is a unique experience that is beyond the wildest fantasies of the most avid metal fan. It is not to be missed!
Fort Lauderdale, FL (PRWEB) September 14, 2012
The Monsters of Rock Cruise, the greatest rock cruise to sail the seven seas, has announced the final lineup for the 2013 Lost Weekend. Departing from Fort Lauderdale, FL on March 16th, this Bahamian journey will rock for four days and nights, showcasing metal icons including Cinderella, Tesla, Queensryche, Kix, Saxon, Lita Ford, Stryper, Y & T, Loudness, Great White plus many more.
Not to be missed, an encore performance by the Michael Sweet, former lead singer and guitarist of the legendary rock band Boston, has just been announced. Michael will team with Tony Harnell of TNT, performing a set of epic hits by world-class rock bands, including the extraordinary music of Boston.
The Monsters of Rock Cruise: The Lost Weekend will transport fans back to the era when Metal wasn't just a music genre…it was a way of life! Cruising emerald waters, the cruise visits the private island of CocoCay, the cosmopolitan resort Mecca of Nassau and Paradise Island plus a full day of Metal Mayhem at sea! Fans are encourage to book as soon as possible at http://www.MonstersOfRockCruise.com to secure their ticket aboard 2013's "can't miss" music experience.
Joining the "Monster" headliners is an epic Metal lineup featuring, Lynch Mob, Dangerous Toys, Arcade, Nelson, London Quireboys, Keel, LA Guns, TNT, Helix, JSRG (former Vixen members Janet, Share, Roxy, Gina), Rhino Bucket, Bang Tango, Faster Pussycat, Enuff Z Nuff, XYZ, Alcatrazz, Black N' Blue, John Corabi, Femme Fatale, Michael Sweet (Former Boston) & Tony Harnell (TNT), Ron Keel, Russ Dwarf, Jailhouse, Ted Poley, Heavy Mellow, Atomic Punks (Van Halen tribute band), Motley, Inc. (Motley Crue tribute band) and AJ's Bravehearts.
The cruise is based on the legendary rock festival at Castle Donington, Leicestershire, England…Seven Metal Bands and thousands of rabid fans converged on the soggy turf of Donington Park and became part of rock history as this historic event was born…the Monsters of Rock! Fast forward to today…the tradition of the Monsters of Rock continues, this time in the Bahamas aboard a luxury cruise ship, showcasing the greatest floating 80s Heavy Metal festival in history!
For one all-inclusive price, fans will enjoy non-stop heavy metal concerts, events and activities, designed to please the most discerning rock & roll metal-head. While the music is the centerpiece, this is more than a "Concert Cruise" event…it is specifically designed to encourage interaction between artists and fans. The fun will begin the moment fans begin to board the beautiful MSC Poesia, meeting new friends poolside during the kickoff Sailaway Concert.
This will set the tone for the next three days, as other over-the-top special events, including Artist Meet & Greets, Monsters Rock & Roll Prom 1987, Shotgun Wedding Vow Renewal, Monster Passenger Talent Contests, 80's Hair Style Contest, Tattoo Contest, Rock Star Dating plus many other events to be announced. As an added bonus, TV personality Eddie Trunk from VH1's That Metal Show will moderate up close and personal Q & As with featured artists in Rock n' Roll War Stories. Rounding out the spectacular celebrity lineup are radio personalities Luc Carl from XM's Hair Nation and Nikki Blakk from 107.7 FM, "The Bone", in addition to renowned Rock n' Roll photographer, Mark Weiss.
For the aspiring rock legend, three optional premium Guitar, Drum & Vocal Fantasy Master Classes will be available for the first time aboard the 2013 Monsters of Rock Cruise. For a nominal charge fans will receive individual and group instruction, jamming with some of the world's greatest metal artists in this unique up-close-and-personal experience. Details will follow in the months to come, including pricing and sign up instructions.
According to Monster's spokesperson Harlan Hendrickson, " The Monsters of Rock Cruise has always been about fan and artist interaction and the new Fantasy Master Classes raise the bar to a new level. Fans don't just watch the artist perform, they make music with the artists."
The Monster's of Rock Cruise is a playground for the serious Heavy Metal fan where music and a luxury cruise hook up for the vacation of a lifetime. Rates for the cruise are available now, starting at $899 per person (double occupancy). Tickets for the Monsters of Rock Cruise will be sold on a first-come, first-served basis and will only be available at http://www.MonstersOfRockCruise.com.