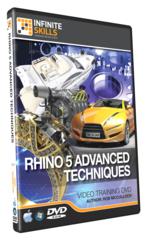 Take Your Rhino Skills To The Next Level
(PRWEB) September 14, 2012
Software training firm InfiniteSkills Inc., recently released its Rhino 5 Advanced Techniques Video Tutorial, a course for intermediate and advanced users of the popular 3D modeling program.
Additionally, InfiniteSkills is offering the course at a discounted rate when bundled with the introductory course, Learning Rhino 5 Video Tutorial.
Rhino 5 Advanced Techniques Video Tutorial
Rhino is a full-featured 3D modeling program finding wide use in a variety of fields including industrial design, architecture, jewelry design, and reverse engineering, as well as multimedia and graphic design. Its growing popularity is due largely to its ability to be used diversely across multiple disciplines, its relative simplicity of use, and excellent compatibility with various file formats.
InfiniteSkills' Rhino 5 Advanced Techniques Video Training - DVD is a largely task-oriented tutorial with chapters focused on the practicalities of designing various objects such as a boat hull, a power drill, or the hood of a car. Advanced features and techniques are taught through the actual design process, providing not only explanations of the necessary tools, but also an understanding of how they relate to specific design problems.
Course author Rob McCulloch is the owner of Studio Red 5, an industrial design consulting firm. He has more than 10-years' experience teaching 3D modeling at the university level, including stints at the University of Michigan and the Center for Creative Studies in Detroit.
McCulloch's amicable, thoughtful style guides users gracefully through difficult concepts such as solid modeling, object handling and visibility, block instances, working with Keyshot, and much more.
Designed for intermediate to advanced users, the course follows topical lessons with chapters focused solely on design projects which build gradually on the user's knowledge. McCulloch covers the entire process of creating sophisticated, highly detailed 3D models. The course then concludes course on output and rendering using the Keyshot plugin.
Free demo videos and a full list of course contents can be found on the Rhino 5 Advanced Techniques Video Training - DVD training page of the InfiniteSkills website:
http://www.infiniteskills.com/training/rhino-5-advanced-techniques.html
InfiniteSkills offers its Rhino 5 Advanced Techniques Training Video either as a DVD or a direct download from the company website at a retail price of $99.95. The bundled package, including the introductory course, Learning Rhino 5 Training Video, is available for $149.95—a fifty percent discount on the second title. All InfiniteSkills titles and formats are compatible with Mac and Windows operating systems, and shipping is available around the globe. Additionally, InfiniteSkills tutorials are supported by project files which correspond to examples used in the videos, allowing users to work alongside their instructors right on their computer or iPad.
About InfiniteSkills Inc.
A leader in the field of software training, InfiniteSkills strives to offer the highest quality training available at an affordable cost. InfiniteSkills tutorials are task-oriented instructional videos, teaching complex skills by providing hands-on examples and guiding users as they carry out critical objectives. InfiniteSkills' comprehensive range of software titles are available as DVDs, digital downloads, and in iPad editions, keeping with company aim of providing professional training to students anywhere they want to learn.