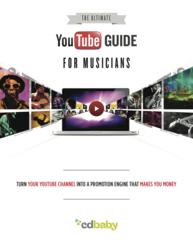 We believe YouTube is the new musical frontier of the digital age
Portland, OR (PRWEB) September 13, 2012
CD Baby has released a new PDF guide designed to help independent musicians use YouTube to get noticed and increase music sales.
"YouTube is the new musical frontier of the digital age," said CD Baby president Brian Felsen. "Soundscan just released a study that shows that 64% of people under the age of 18 listen to music on YouTube more than anywhere else. If you're a musician, it's important to monitor these trends in how music is being consumed."
CD Baby's new YouTube guide details how musicians can increase music sales through YouTube, create YouTube promotions, take advantage of various YouTube features, quickly create and publish music videos, and much more.
"Musicians are quickly discovering that growing your audience on YouTube can increase music sales and concert attendance," said Felsen.
CD Baby's free guide also offers artists advice on how they can earn money through YouTube with CD Baby's sync licensing program. "One of the most exciting things about YouTube's growing dominance in the world of music is the opportunity for artists to make money from ad revenue and sync opportunities," said Felsen. "CD Baby artists can receive additional YouTube revenue by optioning into our sync program for free."
In addition to revenue from YouTube, CD Baby's sync program provides artists with sync opportunities in movies, television, and video games.
"We've already paid out tens of thousands of dollars to artists through our sync program, and it just started," said Felsen. "But our free guide is much more than just info about music licensing. It really is a comprehensive promotion guide for musicians."
Download CD Baby's Guide: The Ultimate YouTube Guide for Musicians: Turn Your YouTube Channel into a Promotion Engine that Makes You Money!"
CD Baby is the largest digital distributor of independent music in the world. CD Baby distributes over 4 million tracks to dozens of music retailers including iTunes, Amazon, Google Play, Rhapsody, and Spotify. From their Portland, OR headquarters, CD Baby warehouses and ships over 360,000 independent CD titles to a customer base that spans the entire globe. The company also offers other services to musicians such as sync licensing, a Facebook music store, web hosting through their sister company [HostBaby, and eBook publishing through BookBaby.