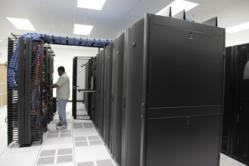 The build-out and move-in was flawless due in large part to the hard work, the due diligence and the professionalism the Depot Park crew demonstrated throughout the project.
Sacramento, CA (PRWEB) September 13, 2012
Depot Park, Sacramento's secure business campus, now offers unrivaled amenities, including 24/7 gated security, abundant parking and on-site childcare, plus it is located in an Enterprise Zone that provides tax incentives including hiring credits, business expense deductions and sales tax credits. Beyond these benefits Depot Park is ideally suited to welcome companies in need of a space for their data centers and call centers.
Depot Park's 300 acres and three million square feet of office space are completely fenced and the entry points are staffed 24/7. Aside from its scale and security, Depot Park is connected. It offers data fiber optics, Wi-Fi and fiber hard lines across the entire site. AT&T provides direct and redundant connections with a ringed infrastructure, while SureWest and Comcast both offer direct connections. All electricity is provided by the Sacramento Municipal Utility District (SMUD), one of the nation's most reliable electrical utility suppliers. These features mean every business has a redundant power source and multiple data lines all safely inside a gated facility with round-the-clock security.
"We built and moved into a new data center in Depot Park in April of 2009," said Mike McLaughlin, Director of Information Technology at Recology™. "The build-out and move-in was flawless due in large part to the hard work, the due diligence and the professionalism the Depot Park crew demonstrated throughout the project. It has truly been a pleasure to work with the Depot Park staff as they rapidly respond to our needs and questions. We know we made the right decision to house Recology's operations at Depot Park."
Depot Park is located in Sacramento, Calif., California's capital, and is less than 100 miles to San Francisco. As Sacramento's secure business campus, extends beyond its security. The site has a Zone 3 earthquake classification (the lowest risk rating in California) and is outside of Sacramento's 100 year flood zone, meaning there is less than a one percent chance of flooding. Depot Park also provides a variety of services to its tenants. These include a certified on-site day care facility, café with a varied menu and competitive prices, well-appointed conference center and plenty of landscaped outdoor break and recreation areas. Originally built as a U.S. Army supply base, Depot Park offers a unique blend of dignified and completely renovated buildings, acre-sized open warehouses, attractive and flexible office interiors and expansive open and covered outside storage areas.
"Our facility is a unique addition to the Sacramento commercial office-space landscape," said Dick Fischer, Depot Park developer. "Depot Park is one of the largest secured business parks in California and its location is second to none. The greater Sacramento area has a population of 1.9 million, providing businesses with viable skilled and unskilled labor forces. We have direct access to the San Francisco Bay Area, Central Valley and the world with three international airports – Sacramento, San Francisco and Oakland – within a 20 to 90 minute drive."
The quality, integrity of construction and infrastructure within Depot Park is state-of-the-art. Fiber optics telecommunication lines and a contemporary electrical system serve every tenant space. In addition, each structure has a full-length concrete loading dock for easy move-in and shipments.
For current leasing opportunities please contact John Barney at (916) 381-8200 or via email johnb(at)depotpark(dot)com.
About Depot Park
Depot Park offers cutting edge industrial, office and storage solutions on 300 acres in beautiful Sacramento, California. Spaces serve a wide range of uses from warehouse and work spaces to truck yard and call center space. Versatility and excellence mark each one of our available properties.
Depot Park was originally constructed for the US Army during World War II. This gives us the ability to offer flexible commercial solutions of varying size and function to a variety of business types. Browse our available properties and discover what Depot Park can offer your business today. For more information visit http://www.DepotPark.com.