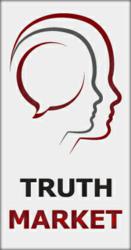 TruthMarket has devised a socially productive way to publicly endow the search for truth and separate winners from losers
Atherton, CA (PRWEB) September 13, 2012
Today Truth Seal Corp. announced that Dr. Frederick Grauer has joined the TruthMarket™ Board of Advisors. TruthMarket is an online Marketplace for Truth Telling™. It provides ordinary citizens with a platform to "crowd-fund" and execute grass roots campaigns that publicly expose misrepresentations and false political, commercial and science claims, while highlighting true claims and offering cash rewards to successful campaign creators, sponsors and challengers.
Formerly the leader of one of the largest investment firms in the world and an acknowledged innovator in market behavior, Dr. Grauer is presently an investor in entrepreneurial ventures and an advisor to pension and investment funds. He brings an established track record of vetting strategic alternatives and distinguishing between hard facts and wishful thinking. When asked why he was drawn to TruthMarket, Dr. Grauer explained that, "Markets aggregate information and are, by definition, a battleground of opinion. TruthMarket has devised a socially productive way to publicly endow the search for truth and separate winners from losers in this ongoing battle."
"We're very excited that Dr. Grauer has chosen to join the TruthMarket Board of Advisors and add his authority to our expanding cadre of experts committed to reversing the growth of manipulative speech, false claims and fractured facts," said Rick Hayes-Roth, Ph.D., Founder and CEO of Truth Seal. "Dr. Grauer's continued association with global investment funds, as well as academia and entrepreneurial ventures, has attracted a large following of well-informed professionals. We look forward to having them participate in TruthMarket campaigns."
"Truth Seal's corporate board is actively recruiting authorities with the stature of Dr. Grauer for the TruthMarket Board of Advisors," stated Mark L. Feldman, Ph.D., Board Member and investor. "The involvement of respected and reputable advisors will advance and accelerate TruthMarket's mission to increase truth and trust throughout the information space." Feldman adds that "over the next few weeks there will be more announcements of public figures joining the TruthMarket Board of Advisors."
About Frederick L.A. Grauer, Ph.D.
Frederick Grauer was Chairman and Chief Executive Officer of Barclays Global Investors and its predecessors from 1983 to 1998 and a member of the Management Committee of Barclays Group. Fred became a General Partner of Angel Investors, L.P., a venture capital fund, in 1999, but continued to serve as Senior Advisor of Barclays Global Investors and its acquirer, BlackRock, until 2011. A pioneer in index funds referred to as the "king of indexing" and the "godfather of quant management," Fred was recognized by Global Custodian Magazine as one of the 100 most important contributors to modern finance in the 20th century and has been featured on the cover of Fortune.
About TruthMarket™
TruthMarket is a division of Truth Seal, a California Corporation. TruthMarket is designed to be a popular online platform that enables everyone to campaign for truth in public dialogue. The primary objective is to increase truth and trust throughout the public information space – online and offline – by publicly exposing false claims and highlighting true claims. TruthMarket's ultimate goal is to predispose all public dialogue toward truth telling.
Trademarks
Marketplace for Truth Telling, TruthMarket and TruthSeal are trademarks of Truth Seal Corp.