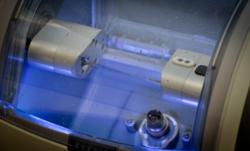 This new procedure gives your tooth a natural match to the rest of your teeth and can be completed in one visit.
Tempe, Arizona (PRWEB) September 14, 2012
Smile Innovations, the Tempe, Arizona based cosmetic dentistry is well known for using the latest in dental technology. Dr. Boyd Patummas, DMD and Dr. Linda Ma, DMD are pleased to announce their latest offering, CEREC same day crowns and fillings.
CEREC, an acronym meaning Chair side Economical Restorations of Esthetic Ceramic is used to restore a patient's damaged tooth or teeth. This new procedure provides a natural match by using a composite material that also eliminates unsightly discolorations.
The CEREC CAD/CAM technology uses a camera, computer and milling machine in one instrument. This device uses a special camera to take an accurate picture of the damaged tooth and is then transferred and displayed on a color computer screen where the restoration is designed.
Before CEREC technology, crowns would generally take a few weeks to finalize. The appointments would consist of making the impression, waiting for temporaries and then installing the permanent crown. All of this is now eliminated by using CEREC same day fillings.
Dr. Boyd Patummas, DMD and Dr. Linda Ma, DMD of Smile Innovations are highly skilled cosmetic and family dentists who represent a new generation of dental professionals. They received their DMD Degree from Temple University School of Dentistry in 2004. They are known for their gentle touch and expert techniques, ensuring the best dental service in Tempe.
For More Information on Smile Innovations and CEREC same day fillings,
visit http://www.smileinnovation.com or call (480) 820-7777.