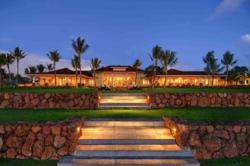 We are very pleased with this response, said Kukui'ula President Brent Herrington. Our goal has been to create a new luxury community that does justice to the gracious charm and natural beauty of Kaua`i.
Kauai, Hawaii (PRWEB) September 13, 2012
Kukui'ula, the first major new luxury community on Kaua`i in decades, continues to build momentum with more than $18 million in sales in the past six months. The brisk sales response has been accompanied by a busy summer of member activity and a strong surge in site visits. Consistent praise from prominent national media continues to keep Kukui'ula top of mind among luxury consumers. To date, Kukui'ula has more than 90 members from 16 states and appears poised for continued growth.
"We are very pleased with this response," said Kukui'ula President Brent Herrington. "Our goal has been to create a new luxury community that does justice to the gracious charm and natural beauty of Kaua`i. It's exciting to see this vision become a reality and we thank our members and our incredible team for their passion for Kukui'ula."
The community's brand new $100 million clubhouse and spa, along with the golf course, shopping and dining village and community farm, are all open and continue to draw rave reviews. The developers of Kukui`ula recognized the need to deliver the community's extensive amenities up front rather than phasing them over a period of years. According to Herrington, "Today's luxury homebuyers want reality, not promises. They want something that is truly special and ready to enjoy today."
The Plantation House is the heart of the community's private club environment, offering sumptuous dining and refined relaxation, along with extensive pools and dazzling ocean and sunset views. Adjacent to The Plantation House is the Spa at Kukui'ula, an elaborate 20,000 square-foot sanctuary offering abundant opportunities for fitness, relaxation and rejuvenation. The Farm at Kukui'ula offers a bounty of fresh produce that owners can pick for themselves or enjoy in the Club's dining venues. The Kukui'ula Golf Course, a private 18-hole championship course designed by Tom Weiskopf, was recently named "Best New Private Golf Course" by Golf Magazine and "Best of The Best" by Robb Report magazine. The classic Weiskopf design follows the natural flow of the land through the surrounding coffee fields, rolling hillsides and ocean bluffs of Kukui'ula.
Construction activity is active with the first 27 cottages and custom homes. Kukui'ula currently offers a portfolio of ocean-view custom home sites and Plantation-style cottages ranging from 1,500 to 3,800 square-feet, with cottages starting at $2.2 million and custom home sites starting at $1 million. In response to customer feedback, Kukui'ula has recently upsized and reconfigured some of its best view lots to provide increased privacy and more open space. These lots provide the ideal opportunity for one-of-a-kind custom homes with panoramic ocean views.
As Herrington describes it, "Our team feels a deep reverence for the majestic beauty and caring people of Kaua`i. We chose to stand apart from formulaic resort-style developments that somehow make every island location feel the same. Instead, we are creating an island community that could exist only on Kaua`i and reflects the relaxed, low-key style of the island itself. It's gratifying to see that others love it as much as we do."
About Kukui'ula®
Kukui'ula is developed by Kukui'ula Development Company (Hawaii), LLC, an affiliate of DMB Associates, Inc. ("DMB"), a Scottsdale, Arizona-based diversified real estate development and investment firm (http://www.dmbinc.com), and A&B Properties, Inc., a subsidiary of Alexander & Baldwin, Inc., one of Hawai'i's largest private landowners (http://www.abprop.com). DMB has been a highly acclaimed leader in creating successful legacy communities in the western U.S. for more than 20 years. Alexander & Baldwin, a landmark name in the Hawaiian Islands for over 140 years, is involved in real estate and agriculture. For more information on Kukui'ula, visit http://www.kukuiula.com or call 1-808-742-0234.