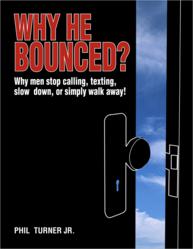 Why He Bounced? is for women who want to become the woman he cannot live without.
Tampa, FL (PRWEB) September 14, 2012
Why He Bounced? Why Men Stop Calling, Texting, Slow Down, or Simply Walk Away" is a new comprehensive book on interpreting the behavior of men in a relationship. Author, certified strategic interventionist, marriage educator, and relationship coach Phil Turner, Jr., has released his newest book for purchase exclusively at Amazon.com in both paperback and Kindle digital format.
Written in a casual, entertaining style, Why He Bounced? offers women solid tips about why a man will suddenly leave a relationship. Women will learn how to speak "the language of men" and to view a man's behavior in a relationship with more clarity.
"I'm aware that there are tons of relationship books available, and you may be wondering why you should read this book," says Turner. "I hate seeing women hurt and want to assist in protecting hearts. Women I coach often rack their brains wondering what happened with a guy who suddenly becomes detached and is no longer talking to her. He just bounces like a basketball right out of her life. My goal in this book is to equip women with knowledge to ease their minds and with tools to use in avoiding such painful experiences."
Most women are not single by choice. They seek men with similar values who are their intellectual equal. But often it seems so difficult to find and keep a man. Turner believes it has everything to do with skills and attitude. Why He Bounced? will help women approach their love relationships with enhanced skills and a more effective attitude.
For example, if a love interest is not talking and is sending signals of being uncertain about the relationship, it is usually because he is not comfortable talking about something that happened between them; he is puzzling over how to respond, uncertain what the right protocol is. A woman's response to this behavior can make him bounce or allow him to come back. It is the key to avoiding irreversible damage to the relationship; it has everything to do with gender differences.
Why He Bounced? is for women who want to become the woman he cannot live without. It provides information based on research into men in relationships, insights gained from coaching women dissatisfied with their relationships, and honest answers to questions that mystify and frustrate women wanting to build a lasting relationship with a man.
http://www.amazon.com/Why-He-Bounced-calling-texting/dp/0962299677