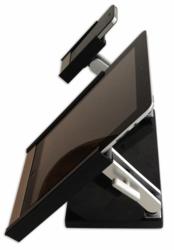 "We realized that the charging platform had to pay homage to Apple itself."
Healdsburg, CA (PRWEB) September 26, 2012
The sun is setting on the desktop computer. Apple enthusiasts are left frothing at the mouth with Apple's new addition, the iPhone 5 launched yesterday. Enthusiasts are already clambering to be the first to get their hands on the anticipated device as the tech giant's shares surge. With sales dropping for the iPhone 3S, it seems that anticipation is already mounting especially since the iPad Mini is also expected to debut in October.
VERSI plans on making it easier for Apple fans to get accustomed with the new devices with its Dual Charging Stations. According to the company, VERSI is the "ultimate charging workstation". The claim is especially aimed at consumers who own both iPads and iPhones. The charging platform is also designed to work with all generations of the iPad and iPhone including, according to manufacturers, the upcoming iPhone 5.
The concept of the workstation is geared towards providing iPad and iPhone owners the chance to charge their devices without having to fumble with additional wiring. In other words, the platform offers consumers the convenience of charging both devices at the same time without having to sync them.
Like Apple's revolutionary tech, VERSI lives up to its name as well. According to a spokesperson from the company, "We realized that the charging platform had to pay homage to Apple itself. In other words, it had to be as versatile, ergonomic, elegant, revolutionary, sculpted, stable and iconic as the products that it is designed to accommodate or synchronize. The workstation's granite base means that it can blend in a home environment and look like part of the decor."
The spokesperson also emphasizes that VERSI is the "ultimate power stand" since it allows both iPhone and iPad owners "unprecedented control" to enhance usability. The flexible design allows it to rotate and swivel in any direction that the user chooses thereby allowing for independent adjustments at various angles. The granite base is stable enough to fix the stand in place and on any flat surface.
About VERSI
The California based company gears production towards charging workstations for portable devices. The company also designs single VERSI's or single charging workstations besides its popular multi charger variety. Single chargers are designed to be compatible with the Kindle Fire, Nexus 7, the Nook tablet as well as a variety of other related portable devices.