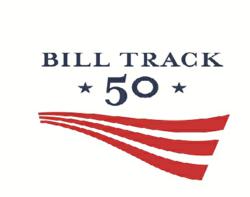 Just as we help these same stake holders find and track the over 200,000 state and federal bills introduced each session, BillTrack50 now provides a PPACA specific tracking tool
Denver, CO (PRWEB) September 14, 2012
LegiNation, creator of the BillTrack50 solution, today announced the launch of a centralized location and service to track health insurance exchange legislation related to the Patient Protection and Affordable Care Act, commonly known as Obamacare. With all 50 state legislatures set to meet in 2013 and governors and state agencies preparing to implement PPACA, health care stakeholders should expect significant state legislative activity over the next 16 – 18 months. The BillTrack50 PPACA Tracker is designed to help healthcare service or insurance providers, non-profit advocacy groups, corporations and citizens more easily track the changing state health insurance legislation.
Michael O'Brien from mob advocacy says "Like it or not, this represents the most significant overhaul of U.S. healthcare regulations in over forty years. Its far reaching provisions include a mandate for individuals to have insurance, for states to develop health insurance exchanges and a historic expansion of Medicaid."
LegiNation president and founder Karen Suhaka recognizes the frustration many health care stakeholders feel with the sheer volume of information available, so many places to look for information and a critical need to determine how health care legislation will impact business and personal access. The BillTrack50 PPACA Tracker provides free daily updates to existing healthcare legislation documents by state. Subscribers to the PPACA tracker receive email alerts whenever there are changes or new documents available.
"Just as we help these same stake holders find and track the over 200,000 state and federal bills introduced each session, BillTrack50 now provides a PPACA specific tracking tool," Ms Suhaka says. "I'm excited to introduce this product, which is our first forward looking tracker, helping our users predict what the future may hold. We are especially happy to be supporting our users on such a high impact topic," she concludes.
President Barack Obama signed the Patient Protection and Affordable Care Act (PPACA) on March 23, 2010. Several states immediately filed lawsuits against the Federal government in an effort to block implementation of the law, citing unconstitutional individual mandate and Federal overreach on Medicaid.
"In essence, states have been up in the air for the last two years, as they waited to see what the healthcare law of the land would be. As usual, nearly every state has handled this purgatory differently," Ms Suhaka says.
While most states wait to see the outcomes of the November elections, legislative professionals and health care stakeholders are preparing for significant, rapid changes in the law.
The BillTrack50 PPACA Tracker can be accessed at http://www.billtrack50.com/Products/PPACATracker
About LegiNation
LegiNation, Inc. was founded in 2011 with the goal of making state level legislation more readily available to the professionals who need it, and even more importantly to the public at large. LegiNation is building products and websites that will spark a renaissance in American politics, leveraging the Internet to create the dialog so desperately needed amongst our elected officials, legislative professionals, and everyday citizens.