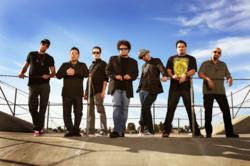 "This band could not have happened anywhere else but L.A.," saxophonist and clarinetist Ulises Bella has said.
Napa, CA (PRWEB) September 13, 2012
In their fourteen years together as a band, celebrated Los Angeles culture-mashers Ozomatli have gone from being hometown heroes to being named U.S. State Department Cultural Ambassadors. Ozomatli have always juggled two key identities. They are the voice of their city and they are citizens of the world. Their music--a notorious urban-Latino-and-beyond collision of hip hop and salsa, dancehall and cumbia, samba and funk, merengue and comparsa, East LA R&B and New Orleans second line, Jamaican ragga and Indian raga-- has long followed a key mantra: it will take you around the world by taking you around L.A.
Originally formed to play at an area labor protest over a decade ago, Ozomatli spent some of their early days participating in everything from earthquake prep "hip hop ghetto plays" at inner-city L.A. elementary schools to community activist events, protests, and city fundraisers. Ever since, they have been synonymous with their city: their music has been taken up by The Los Angeles Dodgers and The Los Angeles Clippers, they recorded the street-view travelogue "City of Angels" in 2007 as a new urban anthem, and most recently, they were featured as part of the prominent L.A. figures imaging campaign "We Are 4 L.A." on NBC.
"This band could not have happened anywhere else but L.A.," saxophonist and clarinetist Ulises Bella has said. "Man, the tension of it, the multiculturalism of it. L.A. is like, we're bonded by bridges." Ozo is also a product of the city's grassroots political scene. Proudly born as a multi- racial crew in post-uprising 90s Los Angeles, the band has built a formidable reputation over four full-length studio albums and a relentless touring schedule for taking party rocking so seriously that it becomes new school musical activism.
Tickets for Ozomatli are $35. They are on sale now and can be purchased through the theatre website at http://www.uptowntheatrenapa.com, at Ticketmaster (http://www.ticketmaster.com) or at the theatre box office (please call 707.259.0123 ext. 6 for hours). To find out more, please visit http://www.uptowntheatrenapa.com.
The Uptown Theatre Napa is downtown's ultimate destination for live concerts. Nestled in the famed West End district, this stunningly restored art deco masterpiece showcases only the finest acts, featuring music, comedy and more. An historic landmark, the Uptown offers a phenomenal, intimate live show experience, with excellent site lines and world class sound and lighting. As concert venues go, this is the place to be. Every seat is a great seat so buy concert tickets now!