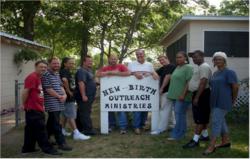 This is the Lord's work here at New Birth
Houston, Texas (PRWEB) September 13, 2012
A homeless shelter in Conroe, Texas has turned to a crowdfunding platform to try to prevent its closure.
Conroe New Birth Outreach Ministries, Inc. could be forced to close its doors if they don't receive immediate financial assistance. Earlier in the year the shelter was required by local authorities to make extensive and costly changes to their facility. Now, the volunteer administrator, has lost her position at her place of employment, cutting off the main source of funding for the shelter.
Denise Smith-Hart, administrator for Conroe New Birth Outreach Ministries explained, "For over five years, the income from my job has sustained the shelter. We receive little outside assistance. Now that I am no longer gainfully employed, the shelter has no steady funding. Winter is just a couple of months away. This couldn't have happened at a worse time. I fear that the end may be in sight."
But Smith-Hart still holds onto her faith, despite the trying times. "This is the Lord's work here at New Birth", Smith-Hart declares. "If He wants it to continue, He will make a way."
The shelter operates on a very thin budget of approximately $2000 per month.
"We decided to turn to FundMyWish.com to try to raise awareness of our situation because we know that a lot of small donations can amount to something big. We are trying to raise enough operating funds for three months. Hopefully, I will have found another job within that time and we can resume normal operations," Smith-Hart stated."
To help Conroe New Birth with their crowdfunding campaign and assist them in keeping their doors open, visit http://www.FundMyWish.com