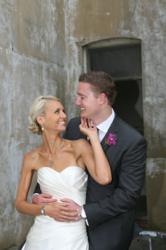 "I would like to thank Shelley for doing my makeup and my hair on Saturday. You were wonderful and made me feel very relaxed. Without having had my makeup done I would have been constantly worrying about having my photo taken...." Anne
Melbourne, Victoria, Australia (PRWEB) September 13, 2012
Bridal makeup needs to last for the entire day through the ceremony itself and the dinner and after parties that follow. The ultimate summer foundation is airbrush foundation.
Forever Flawless's airbrushed makeup is lightweight, clean, non-comodogenic, and is capable of lasting the entire day without needing to be retouched. Airbrushed makeup is beneficial for anyone with sensitive skin and evens out irregular skin tones (including scars and tattoos). It completely masks blemishes and gives the bride's face a healthy, natural glow.
Forever Flawless provides brides with a high-quality airbrush foundation that is guaranteed to last through the heat of the Australian summer and the tears of joy after being joined in holy matrimony. The company is the leading team of professional hair and makeup artists in Melbourne, Australia, and they are known for their exceptional service. Forever Flawless provides brides with the latest beautiful bridal hair and makeup techniques to really make them shine on their wedding day. They also offer a completely mobile makeover service, providing the highest quality hair and makeup to brides in Melbourne. With Forever Flawless at their beck and call, brides can be assured that they will be the centre of attention on their wedding day.
"A big, big thank you to Vanessa and the team," says former bride Jasmin Carrington of Mornington. "You made me look radiant, flawless, natural, and the makeup lasted the whole day despite the 35 degree heat." Airbrushed makeup retains its lustre even through sweat, humidity, and tears.
Another bride—Jessica H. of Melbourne, Australia—emailed to praise Forever Flawless's unique approach to modern bridal makeup. "I loved that I didn't feel like I was wearing a mask all day and that my skin didn't have a major breakout like it normally does when I wear makeup."
About Forever Flawless: Caroline Balinska, the owner and lead hair and makeup artist at Forever Flawless, has 15 years of experience in the beauty industry. She is a trained hairdresser and has worked at some of Melbourne's top salons as a colourist, stylist, and makeup artist. She has also owned her own salon in South Melbourne. She specialises in pre-wedding services including hair extensions, spray tanning, and hair colouring and spends most of her weekends with her bridal clients.