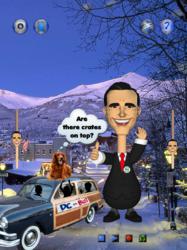 Whether you are a Republican, Democrat or fall somewhere in between there is one thing you will agree on....these apps are funny!
Boston, MA (PRWEB) September 25, 2012
Politics Full Throttle, LLC, is now offering an App for the iPhone and iPad in the likes of President Barack Obama and the Presidential candidate Mitt Romney. The app makes for a great conversation starter and political party favorite. The app can lighten the mood of the heavy political debates amounst family members and friends, it will make everyone chuckle even the toughest audience.
The Obama app features some of the President's most famous gaffes as well as some suprising and unexpecting "pop" ups in the background. The President also takes a spin around to the sounds of a record on a turn table.
The "star" of the Romney ThrottleNecks™ App is Seamus the dog. Famous from his car surfing days, Seamus is back to "bark" back. The hysterical comments from the background add to the already funny Romney quotes. It may have been a "rough" ride but Seamus is not lost for words.
Like the Obama ThrottleNecks™ App, the Romney App also speaks documented phrases that the selected politician has said. Plus, the App can record spoken phrases and the ThrottleNeck character will say it back and you can take a picture with your favorite, or not so favorite, politician. Share your pictures with friends via email or facebook. ThrottleNecks™ will be a viral sensation in no time.
Maureen O'Leary, a self described "political junkie" discovered there wasn't a way to vent her frustration while listening to the political pundits, politics and news media. Many a time feeling the need to throttle someone or something the idea of "Throttle-Necks"™ was born. O'Leary is the Founder of Politics Full Throttle, LLC and the creator of the Throttle Necks™ App. A two person company was then established and funded personally with no outside dollars. Allison Guthrie joined the endeavor at the start and handles the day-to-day operations at Throttle-Necks™ which started with talking political dolls and the idea seemed a perfect match for the App environment.
Politics Full Throttle, LLC is an Equal Opportunity Offender!
http://www.throttlenecks.com. Find us at http://itunes.com/apps/throttlenecks. Friend us on Facebook! Follow us on Twitter @ThrottleNecks.
Press Contact:
Allison Guthrie
SVP Politics Full Throttle, LLC
politicsft(at)gmail(dot)com
617-240-2314