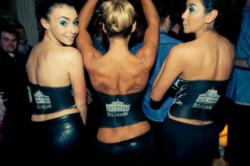 I thought I would give you a little feedback on your artists, Donna (Face Painter) and Danny (Balloon Artist) that attended our Family Day. The truth of the matter is they were both absolutely fantastic! Shelley, you have got yourself two amazing artists.
Melbourne, Victoria, Australia (PRWEB) September 20, 2012
More and more companies are trying shock value in a way to get us to notice them. Gone are the days of putting out a TV ad and hoping to get new clients. Every year businesses are trying to out do each other and find a way to draw in new clients and gain that point of difference.
Since formally announcing the body painting service in July, Shelley's company We Love Face Painting has worked with many of Melbourne's largest companies. They also do community events and festivals.
September sees Melbourne hold the annual hair expo with live shows, demonstrations and hair awards. This year We Love Face Painting provided body painting to the Masci Hair Salon. "It takes a team of professional artists who are extremely skilled in their line of work. Drawing and painting designs on a body is easy for them, moving over body parts is very different from a flat canvas," she said. "It can be an eye opener to people who are not use to seeing this type of art. The whole point is to have people talking about it."
Started in 2007 as a face painting business aimed at children and parties, the decision to move into the corporate world was a natural step, Ms. Bledsoe said.
"Imagine a new product or logo actually walking around your event," Ms. Bledsoe said. "Instead of looking at a poster or a video presentation, they can look at another person showing your announcement. This adds a promotional element that cannot be equaled in any other medium."
"We'll paint a corporate logo on a professional body model for you," said Shelley Bledsoe, owner of We Love Face Painting! "To see someone walking around an event with your logo painted on their body, that is something people will be talking about for a long time to come."
In addition to corporate events, We Love Face Painting! does parties for children and adults, educational workshops, temporary tattoos and hair & makeup for special events.
For more information contact We Love Face Painting! http://www.welovefacepainting.com.au