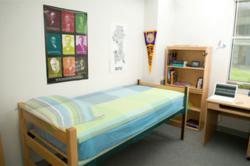 MemoryFoamDoctor.com is offering a special discount for college students on its environmentally friendly memory foam mattress toppers, sized to fit on top of any dorm room mattress.
MIAMI, Florida, (PRWEB) September 13, 2012
College students sleeping on cheap, university-issue dorm room mattresses are not getting a healthy full night's sleep according to Ryan Breslow, vice president of marketing at Memory Foam Doctor. Sleeping on an uncomfortable mattress can affect sleep quality and interfere with physical well-being and academic focus.
As part of its commitment to providing new options for a healthy night's sleep, MemoryFoamDoctor.com is offering a special discount for college students on its environmentally friendly memory foam mattress topper sized to fit on top of any dorm room mattress. Parents can provide kids with one of the most important dorm room accessories available with a Twin or Twin XL memory foam mattress topper, made with the same high quality, advanced memory foam as Memory Foam Doctor mattresses, designed to support, cradle, and enhance circulation for deep, restful sleep.
With only eight percent of U.S. college students getting the requisite eight- to nine hours sleep each night, a recent National Sleep Foundation study published in the "Journal of Adolescent Health" concludes that 70 percent of college students get significantly less than eight hours of sleep.
College students are busy and active, and do not place a good night's sleep high on their list of priorities. Between getting too little sleep and getting poor quality sleep on notoriously lumpy and worn out dorm mattresses, sleep quality is diminished. When sleep quality is poor, students can't achieve their top academic potential.
Adding to the importance of good quality sleep are the findings of a 2010 University of Minnesota study, which concluded that the amount of quality sleep college students get each night corresponds directly with their GPA. The same study found that students who averaged less than five hours of sleep per night experience a decline in their GPA.
"Anyone who has ever slept on a college dorm mattress knows what a terrible night's sleep is," Breslow says. "We at Memory Foam Doctor have slept on dorm mattresses, so we are particularly sensitive to the fact that students need a more comfortable sleep experience."
While parents have no control over the amount of sleep their dorm-resident college student is getting, they can take measures to provide a healthy, comfortable bed with a Memory Foam Doctor mattress topper. Plus, once they have a bed enhanced with a memory foam topper, students may be encouraged to get to bed earlier and stay there longer.
"There are a number of studies that show a direct correlation between eight or nine hours of comfortable, supportive sleep and emotional health," Breslow says. "Every parent wants to achieve this healthy balance for their child, especially knowing that a stronger academic performance is among the benefits."
MemoryFoamDoctor.com offers doctor-recommended, premium sleep products including memory foam mattresses, toppers, and latex pillows to provide the most comfortable and supportive sleep experience possible.
For more information, to view the Memory Foam Doctor line of sleep products, and to learn more about student discount programs visit the website at http://www.MemoryFoamDoctor.com.
About MemoryFoamDoctor.com:
Founded by recent college graduate Robert Gilbert and Stanford University student Ryan Breslow, MemoryFoamDoctor.com offers eco-friendly products made from soy-based memory foam, and pillows made with 100 percent renewable latex. More than just the products are environmentally friendly – the company's business model, from the clean manufacturing processes right down to the environmentally friendly shipping methods provide customers with high quality, affordable, eco-friendly memory foam mattresses, toppers, and pillows that produce a low carbon footprint.
MemoryFoamDoctor.com offers a10 percent cash rebate to customers who purchase a mattress, topper, or pillow and submit a detailed review about their Memory Foam Doctor product experience. For more information on student discount specials or to learn more about Memory Foam Doctor products, visit http://www.MemoryFoamDoctor.com.
###