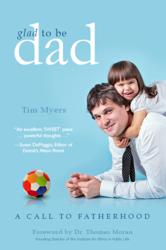 If you're open to it, spending time with a young child is profound, engaging, and fulfilling. Tim Meyers
Salt Lake City, Utah (PRWEB) September 13, 2012
Tim J. Myers discusses a child's fear of losing a parent and explains how to use pretend play to help her feel loved and secure. In a world of uncertainty, Tim Myers helps parents understand that having great family relationships and being creative can resolve a child's simple but real fear.
Tim writes, "When they're given some theatrical or representative way to express themselves, children are remarkably open to their own deepest feelings. Puppets or other character toys, stories, games, and, in this case, dramatic play–all of these can bring out the most heartfelt emotions and concerns. Shilly-Shally (Tim's daughter) knew instinctively that she had to reach past her ordinary self for this important bit of playing. So she became the Lost Girl, and by doing so opened up a world of fantasy from which to look at the real one in which she must live."
Read more in Tim J. Myers Glad to Be Dad: A Call To Fatherhood published by Familius and in this article from The Good Men Project.
Familius is a publishing company focused on helping families be happy by publishing content on marriage, parenting, family fun, health and wellness, education and children's.