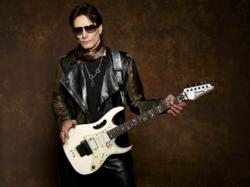 "I'm always pursuing knowledge, I'm a seeker of spiritual equilibrium—and music is a big part of that," says Vai. "I've been obsessed with these kinds of ideas for years."
Napa, Ca (PRWEB) September 17, 2012
Virtuoso guitarist and visionary composer Steve Vai will stop in Napa as part of his North American tour in support of his current release The Story of Light, a new solo album of original materials. Although The Story of Light is largely instrumental, the album does feature guest vocalists including singer-songwriter Aimee Mann (also appearing at the Uptown Theatre on Sept. 30th)—dueting with Vai on "No More Amsterdam," which she also co-wrote—and Beverly McClellan, a season one finalist on The Voice.
McClellan appears on "John the Revelator," a track inspired by a vintage recording of blues singer Blind Willie Johnson, whose acid-soaked vocals are in the mix as well. Other highlights include the title track (which opens the album), "Gravity Storm," "The Moon and I," and "Velorum."
Throughout, three-time GRAMMY-winner Vai's lead guitar is as lyrically resonant as it is technically masterful, his licks and solos bending sounds are in listeners' minds in equal measure. The Story of Light follows the journey of a man driven mad by grief, intertwining tragedy, revelation, enlightenment, and redemption.
"I'm always pursuing knowledge, I'm a seeker of spiritual equilibrium—and music is a big part of that," says Vai. "I've been obsessed with these kinds of ideas for years." Looking ahead, Vai envisions a third set of songs that will unravel the mysteries and reveal truths that swirl through both The Story of Light and Real Illusions: Reflections. The completed trilogy, intended to be cinematic—even operatic—in scope, will include lyrics and narration.
Tickets for Steve Vai with Beverly McClellan are $50. They are on sale now and can be purchased through the theatre website at http://www.uptowntheatrenapa.com, at Ticketmaster (http://www.ticketmaster.com) or at the theatre box office (please call 707.259.0123 ext. 6 for hours). To find out more, please visit http://www.uptowntheatrenapa.com.
The Uptown Theatre Napa is downtown's ultimate destination for live concerts. Nestled in the famed West End district, this stunningly restored art deco masterpiece showcases only the finest acts, featuring music, comedy and more. An historic landmark, the Uptown offers a phenomenal, intimate live show experience, with excellent site lines and world class sound and lighting. As concert venues go, this is the place to be. Every seat is a great seat so buy concert tickets now!