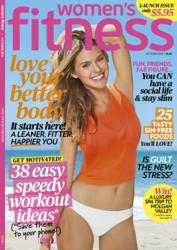 (PRWEB) September 13, 2012
Promotional activity spans television, out of home, online, social media, experiential, radio, gyms and point of sale. Sister ACP titles are also extensively supporting the launch issue.
The hotly-anticipated first issue goes on-sale Monday, 10 September with the mobile-optimised website launching 24 September. Women's Fitness was officially launched last night at an event in Sydney hosted by brand ambassador Giaan Rooney.
ACP Publishing Director Gerry Reynolds said: "Extensive research tells us Australian women aged 25-40 are more interested in exercise and staying fit than ever before. Their health and wellbeing is absolutely front of mind – and we know they turn to magazines as a trusted source of information and inspiration. They are very interested in self-improvement, but they are time-poor and keen to remain sociable.
"Now is the ideal time to be launching Women's Fitness: the ultimate get-fit guide for busy women who want to look and feel their best." Editor Rachel Sharp added: "Women's Fitness is all about putting the FUN back into being healthy, full of easy-to-adopt exercise, nutrition and lifestyle ideas. 'Fitness that fits your life' is the perfect way to describe our philosophy, and that's exactly what our launch issue – and every issue after that – will deliver.
"Forget fads and being a slave to the gym: we want young women to feel great about themselves, their bodies and their health without having to sacrifice the things they love, their friends or their social lives."
From the first issue, Women's Fitness will be utilising ACP's new AR technology, viewa. Readers can download workouts to their phone and carry them with them to the gym, the beach or anywhere they choose to participate. Women's Fitness' viewa also provides shopping lists for healthy recipes, and exclusive behind-the-scenes footage of the launch edition cover-shoot. Plus using viewa, readers can email the editor directly and join the facebook page instantly, with the touch of a button!
Women's Fitness strengthens ACP's existing health and fitness existing portfolio that includes Good Health – which offers holistic wellness information to women 35+ – and The Australian Women's Weekly Health specials. ACP also publishes more than 1,100 health and fitness pages annually across other titles in the ACP Women's portfolio*.
*Source: Nielsen Medialog, 6/11-5/12, Health & Fitness Pages, ACP Women's Lifestyle Pages (excl. Good Health, AWW Health, Cosmopolitan Health).
Women's Fitness campaign credits

Agency: Iris
Managing Director: Simon Porter
General Manager: Sasha Firth
Account Manager: Felicity Andrews
Creative Director: Tom Hoskins
Art Director: Libby Young
Senior Digital Creative: James Griffiths
Copywriter: Julia Dixon
Creative Services Manager: Roger Dore
To see the Women's Fitness TVC visit http://www.womensfitnessmagazine.com.au
About Women's Fitness Australia
http://www.womensfitnessmagazine.com.au is the ultimate get-fit guide for busy women aged 25+ looking to shape up, slim down and feel and look the best they can. Featuring the latest tips and advice on diet and exercise, emotional health, nutrition, fashion and beauty, the magazine offers readers the tools and support to help them take the steps they need for a healthier and happier life.
As well as the monthly printed magazine, with a cover price of $5.95, Women's Fitness will soon be available on multi-platforms including a website (http://www.womensfitnessmagazine.com.au) and specialised mobile applications featuring nutrition and training instructions and advice.
Women's Fitness is published by Dennis Publishing in the UK.
About Rachel Sharp, Editor, Women's Fitness Australia
Rachel Sharp was appointed launch editor of Women's Fitness Australia in March, 2012. She joined ACP Magazines as Deputy Editor and Lifestyle Editor of ACP's Harper's BAZAAR in August of 2009. Before that she spent five years in the Middle East, as launch Editor and Editor-in-Chief of Harper's BAZAAR Arabia and, before that, launching and editing GRAZIA Middle East. She was also Editor of AHLAN!, the UAE's top-selling weekly celebrity news magazine. Earlier in her career she was Commissioning Editor, health and celebrity, of NOW – at the time the UK's top-selling weekly celebrity magazine – and Assistant Editor of NOW Diet & Fitness. Ms Sharp earned a Bachelor of Medical Science with majors in Cardiac Physiology and Pharmacology from the University of Sydney in 1995 and a Master of Arts (Writing for Media) with a major in Feature Writing from Macquarie University in 2002.