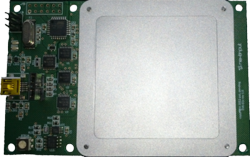 The NextInput team is very proud of this accomplishment. With EVK-1s, customers are now experiencing the value of ForceTouch solutions first-hand.
Atlanta, GA (PRWEB) September 14, 2012
Today, NextInput announced the availability of an evaluation kit for ForceTouch® technology, a touch technology that promises to revolutionize the touch technology industry. The evaluation kit, called EVK-1s, demonstrates the ability of NextInput's ForceTouch technology to detect "three-dimensional" touch gestures that use force of a touch on a touch surface in addition to touch location.
The EVK-1s evaluation program gives product developers who seek next-generation touch technology a way to evaluate the many economic, technical, and end-user benefits of ForceTouch over traditional touch technologies like capacitive and resistive touch. ForceTouch provides a thinner form factor than competing solutions and a more cost effective way to sense touch events from virtually any object – a finger, a fine-tipped stylus, or a gloved hand.
Because ForceTouch can sense the amount of applied force from a touch in addition to a touch location, the technology enables "3D gestures" such as the ability to quickly select and copy text on a touchscreen simply by pressing harder, or the ability to scroll faster or slower through a document on a smartphone simply by pressing harder or softer on a touch zone.
"The NextInput team is very proud of this accomplishment," says CEO Don Metzger. "With EVK-1s, customers are now experiencing the value of ForceTouch solutions first-hand."
NextInput reports that its EVK-1s beta program is yielding heightened interest from the electronics industry. "We have delivered about ten EVK-1s kits to some of our world-class beta customers," says Metzger. "So far, the response has been phenomenal, and we are now expanding access to ForceTouch EVK-1s kits so that product developers can explore additional applications of our ForceTouch technology."
ForceTouch EVK-1s evaluation kits are available in extremely limited quantities. The evaluation kit includes a reference hardware design with a solid aluminum touch surface, ForceTouch embedded firmware, and PC evaluation software for Windows.
To request a ForceTouch EVK-1s Evaluation kit, contact NextInput at ForceTouch(at)NextInput(dot)com. For more information about ForceTouch and EVK-1s, get in touch with the NextInput team at http://www.NextInput.com.
About NextInput
NextInput Inc. is developing the next generation of human input technology for electronic devices. The company's solutions solve a number of key pains in a rapidly growing, $13 billion industry.
NextInput solutions, including ForceTouch®, are less expensive, consume less power, and provide better user benefits than existing touch technology for touchpads, PCs, smartphones, tablets, and large format touch displays. The company is forming charter partnerships now with world-class companies in a variety of electronics industry verticals – by 2014, NextInput touch solutions will be commonplace in a wide array of electronics products.