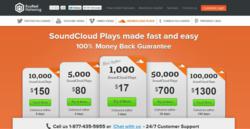 Ottawa, ON (PRWEB) September 13, 2012
Buy Real Marketing, the leading provider of web 2.0 business applications and social media marketing, reaches out to musicians, bands and solo artists from all around the world who need assistance in attracting the attention of the online community with their music and other audio tracks as well as stage performances and gigs.
The company specialized on social media marketing offers SoundCloud plays among their roster of services that include YouTube views, Twitter followers, Vimeo views, Tumblr followers and the upcoming Pinterest likes service. SoundCloud is an online audio distribution catering to musicians, audio book authors and podcasters. It has incorporated the social networking feature that allows users to follow each other to keep tabs on their favorite artists making great sounds. This feature promises and influx of regular SoundCloud plays that users can look forward to.
Recently, Buy Real Marketing has come up with a limited time offer promo that gives its clients a chance to get 50% more of YouTube views and Twitter followers. This has helped many music artists build their social profiles and though a similar offer has not been made for SoundCloud plays service, clients can still take advantage of the affordable price Buy Real Marketing has set.
The SoundCloud plays service will only cost $17 for every 1000 plays delivered in as short as 2 days. No waiting time and no bogus plays because they all came from real people and not bots. Buy Real Marketing, as the name implies, only provide genuine followers, views and likes to have social media presence that is real as well.
Buy Real Marketing is the pioneer company that launched several businesses' social following online and leveraged their marketing potential through social media. All social media packages are guaranteed 100% money-back and are given at affordable prices. Customer service is available 24/7 to answer inquiries and concerns regarding the services.
To know more about the company's services, visit their website at http://www.buyrealmarketing.com or contact them at 1-877-435-5955.
About
Buy Real Marketing is owned by Clicking Labs, Inc. Clicking Labs is a well established internet marketing company founded in 2010 by Jean-Patrick Bisson, Diana Quartin and Jonathan Kennedy. The company specializes in driving search marketing and social media traffic, social web app development and conversion optimization. Each product or service specifically helps small/medium website owners increase online visibility and improve online sales.
###