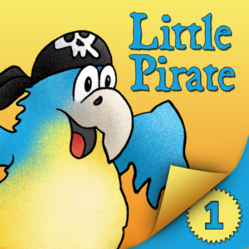 "Arrrrrrrrrrrrrrr!!!"
(PRWEB) September 19, 2012
zuuka today released Little Pirate, a new adventurous storybook app for the young reader that is available for iPad on the App Store. Little Pirate allows each young reader to be the hero of the story through fully customizable narration, character customization with appearance and gender adjustments as well as using the child's name for a truly remarkable storytime experience.
Little Pirate brings young readers straight into the adventure and allows them to be the hero in the story of the "Mirandella", the trusted ship of a fabulous crew of pirates, as she starts her journey to unknown waters and a storm turns life on deck upside down.
"Little Pirate is the onset of a whole series of storytime apps that offer the hero's role to each user, thus being a real innovation within the children's app catalogue", says Dirk Busshart of zuuka. "We are proud to be able to present this to the App Store and look forward to many more of the series!"
The hero of the story will truly be put to the test when the little pirate goes overboard and learns that only a truly gigantic creature can save them. With animations, handcrafted and detailed illustrations and narration, young readers are in for a true high-seas adventure.
Pricing and Availability:
Little Pirate is available for $2.99 on the App Store for the iPad at http://itunes.apple.com/us/app/little-pirate-saving-mirandella/id542202236?l=de&ls=1&mt=8
About Kontrast ('Little Pirate')
Kontrast Communications Services is a full service agency in Duesseldorf, Germany, focusing on print and digital media. Next to various projects "Little Pirate" is the agency's onset to developing iOS and Android apps for various clients acting as publisher for genuine productions.
About zuuka
zuuka publishes zuuka Comics, iTalk and iStoryTime – an interactive storytelling experience delivered to the convenience of your mobile device – which features a series of illustrated and narrated books created by parents for kids. iStoryTime books have been highlighted in the New York Times, LA Times, CBS Early Show, theiPhoneMom.com, CNET and is decorated with Publisher's Innovation Award, PTPA Media's Parent Tested Parent Approved Seal of Approval, the Children's Technology Review's Editor's Choice Award and Reader's Choice for Best Apps for Kids. With over 200 products to choose from, including favorites such as The Smurfs, Puss in Boots, How to Train Your Dragon, WeeSing, Shrek and Kung Fu Panda, iStoryTime apps are excellent tools for both educating and entertaining children ages two years and up. These storybooks can be enjoyed in several different modes ranging from automatic to manual, depending upon the development and preferences of the user. For additional information, visit http://www.iStoryTime.com.