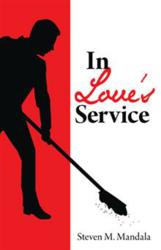 Anyone who has experienced a certain amount of loss in their life has empathy for those who have experienced loss
METUCHEN, N.J. (PRWEB) September 14, 2012
Emmy Award-winning journalist and television personality Anderson Cooper once said about loss, "Anyone who has experienced a certain amount of loss in their life has empathy for those who have experienced loss." Writing of his own experiences dealing with pain and loss, Steven M. Mandala pens his new book "In Love's Service" (published by WestBow Press) The book is inspired by his journey from Wall Street success to corruption, greed, and finally, his incarceration.
"It is a journey beyond the physical realm of suffering into the metaphysical search for answers to life's questions regarding purpose, loss, and redemption," Mandala explains.
The uniqueness of this novel and how it is written is capped by the storyline of the author himself. Before penning, "In Love's Service," the author, Steven M. Mandala, was front-page news across the globe for his crimes of money laundering, grand larceny, and forgery – crimes committed against his employer while employed as a stockbroker.
Inspired by the author's own life, "In Love's Service" teaches readers why scars of one's past persist and what true love really means.
Taking place within the confines of a small cell, a man is given a choice to either let the past bind his future and suffer in vain, or to use the abrasions of his life to answer his own questions about purpose, love, and reality. The choice he is confronted with is the same choice everyone has been given: "Are you ready to know what it means to love and be loved?"
Mandala tells readers that his book is not a self-help book, and does not sugarcoat the reasons for loss and pain, but rather forces the reader to face their past and embrace it.
About the Author
Steven M. Mandala, a writer, speaker and philanthropist, is an evangelical Christian. He is a member of Liquid Church in New Brunswick, N.J., speaker at New Jerusalem Pentecostal Church in Passaic, N.J., and a volunteer for various prison ministries. Besides ministry, he works as an apprentice in Monmouth Junction, N.J. Mandala resides in Metuchen, N.J., with his wife. "In Love's Service" is his first book.
WestBow Press is a strategic self-publishing alliance of Thomas Nelson, Inc., the world's largest Christian publisher, and Author Solutions, Inc. (ASI) — the world leader in the popular self-publishing industry segment. Through this partnership, authors benefit from the rich publishing heritage of Thomas Nelson. Thomas Nelson, Inc. continues to "inspire the world" with distribution of products in more than 100 countries worldwide. Follow us @westbowpress on Twitter for the latest news.
###