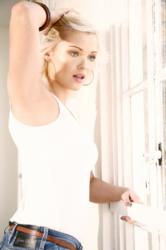 Kristine Paipala has been a cat walk model in the past
London, UK (PRWEB UK) 14 September 2012
Representing modelling London, La Mode launch their newest model portfolio online and jettison a model career to the stars.
Kristine Paipala is a stunning blonde haired, blue-eyed 25-year-old with model application in bucket loads. Having already embarked on an increasingly successful modelling career, Kristine visited the iconic studios at La Mode London, to pep up her portfolio pictures with some brand-new shots. No stranger to posing in front of the camera, she showed she was a natural and the images speak for themselves.
"Kristine Paipala has been a cat walk model in the past for her own and her friend's designer clothing label in Latvia," explains Helen Smith, director for the winning website http://www.lamodelondon.com. She has also freelanced as a model for various photography books, and she has also modelled for Chanel. It's clear at the way she took direction from the photographers in her stride, that she is perfectly at ease with her craft and knows exactly what she wants out of life. It was a real pleasure working with her and the end results are absolutely stunning. We know she will have a really successful career because she has got the determination and drive, and so much enthusiasm. Modelling is clearly her life."
The team at La Mode have seen all types of models passing through their doors on a regular basis and were very impressed with the lady from Latvia's, whole attitude to the photo shoot, making it a very successful day for the photographers, beauty experts and for Kristine herself.
"In her free time Kristine enjoys modelling as well, and she loves to meet new people and visit new places. Modelling and acting really are huge parts of Kristine's life, nothing brings her quite as much joy and excitement," says Helen.
La Mode London are the experts behind the lens. As London's Premier commercial photography company, they specialise in bringing out the best in any aspiring model every day with their stunningly successful photo shoot days. Not only is there experience and professionalism dedicated to their portfolio provision, the whole team shares advice and information to any model who takes time out to have their portfolio pictures provided by the company in the heart of modelling London.
The website that accompanies the portfolios share information about each model and when asked why she decided to join the profession, Kristine said,
"That is the simplest thing ever! Nothing brings me joy and excitement like being front of camera and posing," she laughs. " I've been a cat walk model for my own and friends designing clothing line in Latvia, as well as being freelance model for photographer books, mainly a model for adult Chanel's. I love making the most of it! "
Other pages added to each website provide an insight into each model's personality, interviewing them for their interests and inspirations. Kristine says, "I like enjoying modelling for a TV show as well as spending quality time with my family, love meeting new people and new places. Pink Floyd is the old time best, most fun time was canoeing with scouts I loved it, my biggest hobby is modelling, it takes the biggest part of my life as well as acting." Her inspirations come to her from all sources it seems," Mmm this is a good one, I could get inspired from little flower growing next by house even seeing different people. Listening to the music inspires me. Seeing fashion cat walks, and different pieces of art excites me!"
It seems a modelling portfolio is just one step to take to get anywhere in the wonderful world of modelling and with ongoing advice always on hand, La Mode wish their latest model signing all the luck in the world.
See Kristine's new modelling portfolio launched live today at http://www.lamodelondon.com alongside lots more modelling portfolios revealed on a daily basis by the photographic experts in the heart of modelling London.