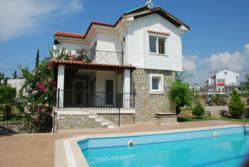 Our latest figures show how the UK's wettest summer in 100 years, low-yielding property in Europe, and failing pensions have impacted considerably on consumer sentiment
(PRWEB UK) 14 September 2012
UK-based Turkey estate agent Oceanwide Properties is experiencing a surge of website hits to its online Turkey property portfolio this year, with properties in the Mugla Province proving the most popular destination in overseas home searches for the period May to July.
Overall new visitor searches were up by over 66 per cent on the same period in 2011, according to Suleyman Akbay, MD of the firm which specialises in apartments and villas along a 200 mile stretch of Turkey's Mediterranean coastline and Istanbul.
Brits topped the number of searchers representing nearly 68 per cent of active leads. Suleyman comments: 'With Brits already accounting for 1 in 3 overseas property owners here, Turkey has firm footing as a destination of choice for UK buyers looking for a lifestyle property overseas. But we believe our latest figures show how the UK's wettest summer in 100 years, low-yielding property in Europe, and failing pensions have impacted considerably on consumer sentiment, boosting interest in the demonstrably resilient property sector here.
'Over the last three months our properties in Istanbul and in village locations like Uzumlu near Fethiye harbour town, which are slightly more inland but within easy driving distances of the Turquoise Coast, have proved increasingly popular. This suggests buyers are being more discerning as to the opportunities of investment in less resort-based destinations, and are researching how much further their money will stretch. Proximity to local transport routes and international airports are still, understandably, factoring heavily.
'We experienced a notable rise in the volume of searches shortly after the introduction of a buying law in May which added further countries to the list of those that can own property in Turkey.
'Property searches from within Turkey have also doubled compared to the same period last year, potentially reflecting Turkish people's increasing wealth. Also hits from Russia and Saudi Arabia, who were among the new nations to have their buying rights eased, usurped our visits from Germany and Spain. We had only ever received a trickle of traffic from those areas previously because of ownership restrictions in place.'
With home and rental values already demonstrating year-on-year double digit growth, 5 per cent growth has already been achieved so far this year (source: Turkish Central Bank), it should come as no surprise that Turkey is consistently being billed by analysts as among the top performing property markets in the world (source: Knight Frank Global House Price Index), nor that the country is predicting 300 billion dollars worth of property to be sold to foreigners in the next 10 years (source: Hurriyet Daily News).
Suleyman concludes: 'Despite the global financial slow down, our thoughts are many investors still hold confidence in the returns that property can offer and, with tightened purse strings, people are carefully researching resilient sectors that can demonstrate both value for money and steady returns for their hard worked earnings. Turkey property is clearly hot to trot on that right now, with starting prices in prime areas of Istanbul from as little as £34,000.'
For home hunters looking for high quality affordable homes with growth potential, Oceanwide Properties has some excellent properties on offer in Turkey at special last-chance prices and with financing options.
Innovia, situated in Beylikduzu on the European side of Istanbul and 10km from Ataturk International Airport, has a selection of one, two and three bedroom apartments surrounded by a green belt comprising waterfalls, parks and a small lake. The development additionally offers a substantial range of sporting, recreational and social facilities. With 80-85 per cent loan to value mortgage available, an opening offer of six month rental guarantee and 25 per cent value increases already seen, the starting price of £34,000 offers an excellent entry point to Istanbul's lucrative property scene. The three phase development is planned to complete in 2013. Ref: 2569268.
The LaVanta residential complex in the prestigious Kalkan peninsula and situated close to a new marina in Kas offers a last chance to own either a two bed apartment, townhouse or three bed villa with pool at a last reduced price – owing to just seven units remaining. Lying in a development with an established rentals record spanning a 20 week high season, current buyers are achieving weekly lets of up to £1,700 and have witnessed almost double property value yields in just four years. Prices starting at £105,000 (down from £120,000). Ref: 2622778.
To enquire about any of the properties featured in this release, or for further information on the full range of properties available through Oceanwide Properties, please call +44 (0)1252 213 214 or visit http://www.oceanwideproperties.co.uk.
-ENDS-
Notes to Editor

Over 35,000 Brits currently own a property in Turkey according to the Turkish General Directorate of Land Registry.
Oceanwide Properties is a long standing member of the National Association of Estate Agents, the European Confederation of Real Estate Agents and International Real Estate Federation - UK Chapter (FIABCI). The company has offices in the UK and Turkey. http://www.oceanwideproperties.co.uk, tel: +44(0)1252 213 214 (UK), +90 (0)252 614 9174 (Turkey).
Oceanwide Properties frequently blogs on issues relating to property markets in Turkey
http://blogoceanwideproperties.com/
For further information please contact the Oceanwide Properties media desk: media(at)oceanwideproperties(dot)co(dot)uk | tel+44 (0)1252 213 214