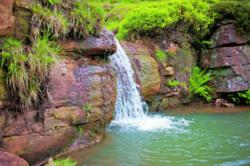 My writers can't seem to get enough of creepy stories lately
Peak District, UK, 14th September 2012 (PRWEB UK) 14 September 2012
The UK's largest online directory of Peak District accommodation, wave their wands with magic, as another page is added to an already winning website.
Always first to the post with the latest Peak District news, articles and features about one of the nation's most loved National Parks, Peak District Online uncover stories surrounding its secretive fairy folk. With a whole host of pages dedicated to Derbyshire, the team at PDO are very proud to announce the release of yet another informative and interesting new page.
Providing visitors to the Peak District with nuggets of nonsense, as well as featuring a fantastic array of factual pages about the area, the website which holds the Derbyshire Dales close to its heart, dig below the hills and find the fairy folk who may, or may not dwell there.
"My writers can't seem to get enough of creepy stories lately," laughs James Dobson, director for Peak District Online." They've been scaring themselves silly in the office this summer, delving into ancient archives and finding out all sorts of spooky tales which make up the myths and legends of the Peak District. The latest section dealing with fairy stories of the Peak District has prompted a lot of laughter, but still with that unsettling feeling that the stories had to come from somewhere."
James explains that with so many stone circles and standing stones littered around the Peak District, spooky goings-on obviously occurred in times gone by. Adding information about anything which may interest their growing number of unique visitors each month is a real treat for their writers he says.
"Our website has grown from strength to strength and each month new pages are added to inform visitors to the area about anything they may be interested to learn. We dedicate most of our time, updating http://www.peakdistrictonline.co.uk with all the latest late availability and offers on accommodation in the Peak District, but we also balance out the factual with features about fantastical goings-on. We have no idea if they're true or not, but it makes for a fun bit of reading. "
Already attracting over 200,000 unique visitors each month, the UK's largest Peak District guide for accommodation are very proud of their growing success. What started out as a very small family run business has grown into a monster of a website, providing their readers with anything relevant and interesting to do with any area in the Peak District.
"It's not simply an accommodation list that we offer, although we are extremely proud about wonderful directory," explains Steve Wake, fellow director at Peak District Online." We are very lucky to have some fantastic researchers, sales people and writers and we all get along great to share any stories and features we want to feature for our online readers. This latest page of fairy stories of the Peak District has certainly opened our eyes to what could be true, but probably isn't. It's been great fun learning about the leprechauns, giants, and fairy folk who gather at the full moon, and reportedly come to dance and play their musical pipes, wandering in pairs through the bracken. It's up to the reader to believe what they want to."
See the pages as they are added at http://www.peakdistrictonline.co.uk and gather some fairy stories for bedtime reading, as their new page opens its creaky doors, to let those who don't mind being spooked, inside.