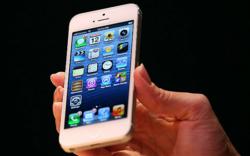 SellMyMobile.com partner with iPhone Recycling to become the first to show trade-in prices for the new iPhone 5
(PRWEB UK) 13 September 2012
Yesterday was a big day in the mobile phone industry, with Apple unveiling a brand new iPhone. Millions of people worldwide tuned in to live blogs and streams in anticipation to see Apple CEO Tim Cook deliver the news of the iPhone 5.
Just a day after the announcement, SellMyMobile.com became the first mobile phone recycling price comparison website in the world to start featuring prices for it.
The recycling company iPhoneRecycling were also the first recycling website to feature the iPhone 5.
At the moment, the following prices are being shown on Sell My Mobile for the iPhone 5:

Brand New and Boxed - £600
Working and Factory Unlocked - £575
Working - £550
Broken - £200
With every iPhone release there are always those that feel the latest generation doesn't quite meet up to expectations so being able to sell a phone quickly and easily on SellMyMobile.com will come as the ideal selling ground.
The iPhone 5 Spec
Announced on Wednesday 12th September, the new iPhone 5 will include the following features:
4 Inch Screen
4G Capability
Thinner Body
Apple A6 Processor
1GB RAM
8 Megapixel iSlight Camera
1080P Video
iOS 6
Most noticeably, the iPhone 5 is said to be much sleeker and lighter than its previous generations.
However, the lack of NFC (Near Field Communication) and Wireless Charging have had some critics branding the new device as "boring".
For those with an iPhone 4S now is the time to start trading as prices are expected to start falling on these models now Apple have confirmed the iPhone 5 release date.
At the moment the price comparison website offers the following prices:
Apple iPhone 4S 16GB - £300
Apple iPhone 4S 32GB - £307
Apple iPhone 4S 64GB - £326
Pre-orders for the iPhone 5 start Friday 14th September with shipping on Friday 21st September.