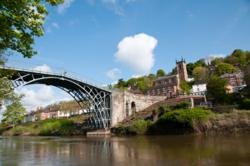 The entrepreneurs in Telford look as though they are building a solid platform for economic stability
UK (PRWEB UK) 17 September 2012
Telford: Telford's Business Confidence Report for the first half of 2012 shows that the town had its highest ever April performance for new company formations in 2012, reaching a total of 51 - a 38% increase on April 2011. This trend continued in May, which broke the record for May formations in Telford with a total of 57.
"The entrepreneurs in Telford look as though they are building a solid platform for economic stability," stated Peter Valaitis, managing director of Duport.co.uk.
"As well as two consecutive months of breaking formations records, it's also encouraging to see that there are fewer businesses going bust in the area – which just goes to show that Telford is fighting its way out of recession with new businesses and start-up confidence."
As well as breaking records for new company formations, Duport.co.uk's Business Confidence Report for Telford shows more positive stories for the town's economy.
Telford has experienced a net growth in companies, with the company register showing 135 more companies in the town at the end of June 2012, than on the 31st December 2011.
This expansion has been led by both an increase in formations and a decrease in company dissolutions, with a large drop in the number of businesses in Telford being dissolved.
148 companies in Telford were dissolved between January and June 2012, with is a 15% decrease on the first half of 2011. This is a larger drop in dissolved businesses than the UK average, which stands at a decrease of 9%.
Telford is also a popular place for female entrepreneurs, and has appointed an above average number of female directors in the first half of 2012. 26% of new directorships in Telford were given to women during this period, against the UK average of 23%.
With new formations records and a sharp decrease in dissolved companies, Duport.co.uk's Business Confidence Report for Telford shows a town that is growing its way out of recession through entrepreneurship and positive new businesses.
Duport Business Confidence Reports are generated and released by Duport Associates Ltd. The Reports are compiled using official data from Companies House, which provides public information about Limited companies and directors. Duport Associates Ltd is a leading UK company formation agent, established in 1997 and registering around 10,000 new companies each year through its Companies House approved software.