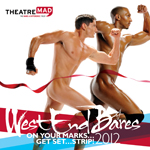 we must also never forget the thousands of individuals out there that volunteer their time either for charities or as carers for those that need their help on a daily basis
(PRWEB UK) 13 September 2012
The event was masterfully held together by its hosts: Olympic gold medallist Robin Cousins and actress and TV favourite Claire Sweeney. With appearance's from celebrities as Jon Lee, Ben Richards, Matt Evers, Greg Burns and Oliver Thornton as well as a stunning closing number written by Anderson & Petty and sung beautifully by Mark Evans (currently playing Sam in Ghost: The Musical) and Louise Dearman (soon to be the first actress to play both Glinda and Elphaba in the hit musical Wicked).
A 1,200 strong appreciative audience, which included a few famous faces such as Duncan James from Blue and internationally renowned Broadway Producer Barry Weissler, all clapped and cheered wildly whilst over 100 of the hottest dancing talent in the west end showed once again why Londons Theatreland is perhaps the best in the world.
The event included a model catwalk of underwear produced for the charities 'Pants Project' that had been customised by wardrobe departments from across the West End as well as celebrities including: Dame Judi Dench, Zandra Rhodes, Ben Cohen, Gok Wan, Patrick Stewart, Craig Revel Horwood, Queen and Ben Elton, Oliver Thornton, John Owen Jones, Christopher Biggins, Kerry Ellis, The Original Bucks Fizz and the Cast of Emmerdale
West End Bares chose to promote and support the charity Positive East as a part of this event in recognition of the amazing work they do supporting people living with and affected by HIV in east London.
Steven Inman, MAD Charity Director said, "Once again West End Bares has proven to be one of the most fun ways you can spend an evening and raise funds for charity. Here at MAD we are so grateful to Darren Carnall, Matt Krzan, Jayson Gray and indeed all of the performers, choreographers, technical support and volunteers that give their all to support our cause. The London Olympic 'Games Makers' were incredible and did a wonderful job, and reminds us we must also never forget the thousands of individuals out there that volunteer their time either for charities or as carers for those that need their help on a daily basis. This country has a lot to be proud about"
The event was sponsored and supported by some amazing companies including MAC Cosmetics, aussieBum, Prowler Stores, GT Magazine, Stage Won, QX Magazine, Baseline Magazine and Café de Paris.