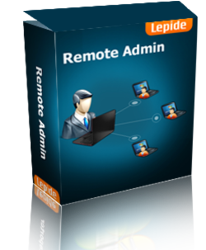 Administer multiple machines across various domains from a single console
Noida, India (PRWEB) September 17, 2012
Lepide Remote Admin is a free tool that helps in Enterprise Desktop Administration by working as remote desktop control. It establishes a seamless connection with any remote computer in the network and offers an interface using which you can perform a host of activities such as starting and stopping Windows services, analyze Windows performance by accessing PerfMon, Analyze and manage Windows Event Log files, transferring files between machines and a whole lot of other activities. It bypasses the complex and limited features of Windows Remote Desktop connection by offering a faster, secure and feature-rich connection option.
Lepide Remote Admin can be an effective tool in dealing with helpdesk issues as well. It can cut down time and effort put in by IT Helpdesk in resolving end users issues by providing a remote desktop control option. Helpdesk team can log on to any machine in the network and view and control their system as if they were directly logged on to it. They can view error log files, transfer and run diagnostic tools as per requirement to ensure high availability of IT resources thus enhancing employee productivity. Administrators can delegate task to support team and still prevent unauthorized access to any system and misuse of software by setting email notification feature, which shoots an email every time a connection is established using this stool.
Key Features of Lepide Remote Admin
1. Provides an intuitive and user-friendly and interface to have a clear view of Windows Events Log on remote machine and also manage Files, Folders, and Disk drives remotely.
2. Facilitates easy and instant access to Windows services on the remote computer and send wake up request to unattended computers.
3. Allows users to take complete control over desktops, laptops remotely and provide instant support which may include taking screenshots and file transfer.
4. Assists in transferring files at a high speed with proper encryption and compression which is better than the conventional emailing or network sharing methods.
5. Competent enough to establish a secure connection with proper data encryption to eradicate any probability of unauthorized access to data.
6. Offers enhanced security while transferring data in encrypted form to prevent unauthorized access.
7. Provides facility to set notification and get notified whenever a connection is established with a remote computer.
This feature-rich software is available free of cost. Any individual can download this remote access software for free and avail all its features without any sort of limitation for unlimited period of time. Visit the site to know more about software http://www.lepide.com/lepide-remote-admin.html
About the Company
Lepide Software Pvt. Ltd. is a renowned name in the field of data recovery, IT management, computer security and PC tools. Company offers a number of tools that are technologically advance and produce best results. This product is yet another addition to the portfolio of world –class products offered by the company. To know more about the company you can visit our website: http://www.lepide.com.