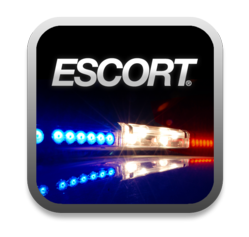 Our partnering with Pioneer creates the opportunity for many more drivers to join our award winning ESCORT Live™ network.
West Chester, OH (PRWEB) September 17, 2012
ESCORT Inc. (ESCORTinc.com), designer and manufacturer of the world's best premium automotive accessories, today announced the addition of its multi-award winning ticket protection network ESCORT Live™ app for inclusion and compatibility with Pioneer's revolutionary AppRadio™ SPH series Car Receivers. ESCORT Live™ delivers the world's most advanced real time radar and laser ticket protection giving drivers an unprecedented, advanced information picture of their driving environment. Now ESCORT Live™ app users can easily use their Pioneer AppRadio™ to become part of the ESCORT nation of drivers connected in the social network for the road.
"We are excited about the truly revolutionary level of protection that ESCORT Live™ has brought to radar detector consumers and to the category. Our industry acclaimed technology can now connect Pioneer customers to ESCORT Nation in real-time allowing them to see and share ticket threats with others," said John Larson, ESCORT President and CEO. "Our partnering with Pioneer creates the opportunity for many more drivers to join our award winning ESCORT Live™ network."
ESCORT Live™ provides revolutionary radar and laser ticket protection by using real-time, cloud-based threat and information sharing among countless drivers using the app on their iPhone. With the ESCORT Live™ app operating uninterrupted on their smartphone, networked drivers are continually safeguarded against radar and laser real-time ticket threats even before they are in range of enforcement guns!
Pioneer's AppRadio™ is the first car stereo to seamlessly connect and display compatible phone apps on the dash for the ultimate in-vehicle smartphone experience. Now that experience includes the ESCORT Live™ award winning ticket protection app.
The joint announcement between ESCORT and Pioneer is timely news for drivers who are collectively being targeted for the more than 50 million speeding tickets issued annually in the US. The combined offering of the ESCORT Live™ app for availability on Pioneer's AppRadio™ receivers, creates a unique opportunity in the consumer electronics mobile and app categories – for the first time ever, with one touch of a button drivers can download ESCORT Live™ and turn their smartphone and Pioneer AppRadio™ into a radar detector!
When connected to a compatible Apple iOS smartphone loaded with Pioneer's free AppRadio™ application, the AppRadio™ in-dash stereo allows drivers and their in-car companions to access the ESCORT Live™ app and display it right on the dash.
Downloading the new ESCORT Live™ ticket protection app gives drivers immediate access to a portion of the ultimate live alert network.
ESCORT Live™ is a completely free download and includes:

'Police Spotted' speed trap alerts
Mobile and fixed-position traffic enforcement camera alerts
Ability to share your threat reports in the ESCORT Live™ network
ESCORT's patented Mark Location™ feature which allows drivers to receive automatic reminders for previously marked threats
Multiple map and dashboard views on your smartphone based on user preference
To gain full access to all ESCORT Live™ alerts from detector owners, ESCORT is offering a premium level subscription which, in addition to the free app, includes:

Full access to ESCORT Nation with real-time radar and laser alerts received by detector users in the area
Detailed threat information including time sensitive, 'heat-mapped' color coded warning icons for fast, safe and more accurate responses
ESCORT's patented GPS full feature set including: vehicle speed; posted speed limit data; over speed limit alerts; compass and directional headings
Two convenient levels of subscription service – $4.99 per month or $49.99 per year
The ESCORT Live™ ticket protection app has repeatedly received highly acclaimed reviews and awards including: CNET 'Must See', Edmunds 2012 'Top Ten New Product, Consumer Electronics Show 2012 Innovations Design and Engineering Award, Car and Driver 'Best New Technology', Popular Mechanics Editor's Choice, and, 'Best New Mobile Product' at SEMA (Specialty Equipment Manufacturer's Association) Show.
"Our radar detector products have always provided drivers with the highest level of ticket protection in the marketplace," Larson says. "With ESCORT Live™ millions of additional drivers with compatible smartphones can protect their driving record and insurance premium by avoiding costly tickets."
Get more details on the revolutionary ESCORT Live™ ticket protection app and ESCORT's class-leading radar detectors at ESCORTinc.com or call 800.433.3487.
About Pioneer
Pioneer Electronics (USA) Inc. is headquartered in Long Beach, Calif., and its U.S. Web address is http://www.pioneerelectronics.com. Its parent company, Pioneer Corporation, is a preeminent manufacturer of high-performance audio, video and computer equipment for the home, car and business markets.
About ESCORT Inc.
ESCORT Inc. is the leading manufacturer of high-performance radar and laser detectors, the patented ESCORT Live™ real-time ticket protection network, commercial fleet ESCORT SmartOffice™ mobile PC, ESCORT MobileTV™, Guardian Alert reverse obstacle detection systems, Entourage GPS-enabled navigation and tracking products, ESCORT QuickStart™ and other Drive Smarter products. ESCORT manufactures products under the ESCORT, PASSPORT, REDLINE, SOLO, Vector and BELTRONICS brands. The company is headquartered in West Chester, Ohio, with its principal manufacturing facility located in Mississauga, Ontario, Canada.
Editorial Contact:
Ron Gividen
513.870.8500
press(at)escortinc(dot)com