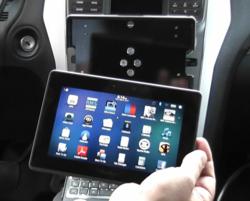 Adding the dock to our RMS, reports and data, in-car license scanner, ticket printer, keyboard and video gives law enforcement agencies with tight budgets robust mobile policing solutions for their cruisers.
Toronto, Ontario (PRWEB) September 13, 2012
Mobile Innovations is launching its new in-vehicle PlayBook docking system in time for the 119th Annual International Association of Chiefs of Police Conference and Exposition to be held from September 29th to October 3rd in San Diego.
Working closely with D & R Electronics, the long-standing BlackBerry Alliance member has developed a mechanical mounting solution that adds quick-connect convenience for mobile policing with PlayBook. One of many Mobile Innovations solutions for law enforcement in the field, the new dock will be showcased inside a fully upfitted 2013 Ford Interceptor SUV in the BlackBerry booth at this year's IACP event.
Featuring snap-in / snap-out functionality with micro USB and built-in power connections, the new docking unit also features an articulated base that allows for left or right bias to face driver or passenger seat users, and also tilts forward to allow access to dashboard vehicle controls. A built-in aluminum heat sink plate at the rear of the dock dissipates heat, keeping the PlayBook cool while allowing open apps to run full-time while maintaining battery power at one hundred percent.
"Our new PlayBook dock rounds out our in-vehicle PlayBook solution offering," says Mobile Innovations President and founder Gary Bauer. "Adding it to our mobile RMS data solution, CIRT and GPS software, as well as our in-car license scanner, ticket printer and video camera, the dock enables law enforcement agencies to put robust mobile police functionality into their cruisers on tight budgets."
The company's Mobile Police Assist (MPA) for PlayBook solution set turns any police cruiser into a police station on wheels for a fraction of the cost of upfitting with a ruggedized laptop. Fully air-bag safety compliant, it also takes up much less cabin room which is a major consideration in the smaller new-generation police vehicles. Because of these advances, Bauer anticipates positive reception by IACP attendees, many of whom come to see the newest products and latest technologies at the world's largest law enforcement exposition.
Along with the entire MPA for PlayBook solution, the new docking system will be on display in a fully upfitted Ford SUV Interceptor at the BlackBerry booth, #707. Upfitted by D & R Electronics, the Ford SUV joins the Ford sedan and Dodge Charger in the growing roster of available platforms for in-vehicle MPA for PlayBook upfits.
For more information, please contact:
Gary Bauer – President
Mobile: 1-416-889-9997
Email: garyb (at) mobinnoco (dot) com
Mobile Innovations is a privately held company dedicated to enhancing law enforcement with the most advanced mobile data products available. Based in Niagara Falls, Canada, Mobile Innovations also has operations in Toronto and works with over fifty agencies across Canada, the United States and in the United Kingdom. Mobile Innovations is a member of the BlackBerry® Alliance Program with six years of service developing and deploying advanced mobile solutions for BlackBerry devices.