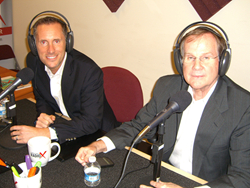 The product is available, the money is there, and the people are starting to come back.
Atlanta, GA (PRWEB) September 14, 2012
On September 13, 2012, Business RadioX™'s Real Estate Atlanta Radio welcomed to the studio a group from PalmerHouse Properties. Joining co-hosts Stone Payton and Kevin Finn were Kevin Palmer, CEO and Founder of PalmerHouse, Tom Ellicott, President, and Michael Stanley, Realtor.
PalmerHouse Properties ("PalmerHouse") began operation in April 2006. Their vision is to remain a high energy real estate firm that creates opportunities for real estate entrepreneurs. PalmerHouse has become one of the United States' fasting growing agencies. Since the inception of PalmerHouse, they have also formed three other agencies: PalmerHouse Properties Realty, PalmerHouse Properties & Associates and PalmerHouse Properties Lake Country ("PalmerHouse Companies") in order to accommodate the Agents and REALTORS with access to various listing services and board affiliations.
According to Kevin Palmer, PalmerHouse Properties has experienced tremendous growth over the last three years. The Atlanta housing market took an incredible hit, but has rebounded dramatically in recent years. The market has gone from a large surplus of inventory to a now record low, resulting in higher home sales prices and multiple offers.
The good news for buyers is that the interest rates are low, loans are available, and homes are being built and sold again. Says Palmer, "The product is available, the money is there, and the people are starting to come back."
PalmerHouse Properties serves the greater Atlanta and north Georgia areas, including intown Atlanta, Alpharetta, Marietta, Lake Oconee, Duluth, Decatur and Canton. For the third consecutive year, PalmerHouse has been honored with the Atlanta Business Chronicle's PaceSetter Award. Most recently, PalmerHouse was recognized as the 9th fastest growing, privately-held company in Atlanta for 2012, with the 4th and 6th positions for 2011 and 2010, respectively. PalmerHouse was also recognized in 2011 and 2012 by Inc. Magazine as the one of the fastest growing, privately held company in the United States. Inc. Magazine also recognized PalmerHouse as being the 8th fastest growing, privately held real estate company in the United States in 2012.
Kevin Palmer was pleased to announce on the show that PalmerHouse Properties was also ranked #23 in the Top 25 Real Estate Companies by Sales Volume in Atlanta by Atlanta Business Chronicle.
To hear more about PalmerHouse Properties and their success in the Atlanta real estate market, please visit Real Estate Atlanta.
About Real Estate Atlanta Radio:
http://www.realestateatlanta/businessradiox.com
Each Wednesday at 3:00 pm Eastern, we interview Atlanta's Best Realtors® about the market, the profession, and their individual approach to serving clients.
About Business RadioX™:
Business RadioX™ provides a turnkey solution for business owners who want to leverage the power of internet radio to meet their best prospects, establish credibility for their organization and heighten the placement of their brand in search engines rankings. With a professional venue and a proven formula, Business RadioX™ helps hosts podcast their shows and create a regular stream of dynamic content to share with their prospects and feed the search engines every week. Programs are recorded and streamed live to the internet from our studios in the greater Atlanta area. For more information or to hear a live show, visit: http://www.businessradiox.com.