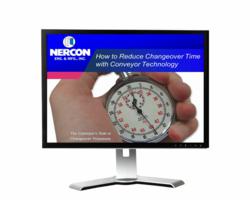 Oshkosh, WI (PRWEB) September 13, 2012
Nercon Engineering, a designer and manufacture of packaging and process conveyor systems, recently held a live webinar broadcast on the conveyor's role in packaging line changeover. Changeover speed is extremely important in automated packaging lines in order to reduce downtime and increase production efficiencies.
The webinar, "Changeover: Conveyor Technology that Cuts Time," was very successfully and was attended by automation and production specialists from 18 countries. Since its' launch August 9th, the on-demand webinar continues to be the number one result for conveyor changeover webinar internet searches.
Project engineers, production supervisors and plant or operations managers will benefit from the guide rail and automatic changeover information covered in the webinar.
"Conveyor Technology that Cuts Time," is available for on-demand viewing through November 30, 2012. The webinar covers:

Technologies available for single set point and multiple set point guide rail options
Best practices for manual guide rail equipment solutions and processes
Product handling considerations when choosing changeover options
Accessibility and safety issues that can affect changeover planning
Automatic guide rail systems technology overview and best use cases
Purchase cost versus man hours for changeover technology comparison
Nercon provides specially designed and engineered changeover solutions for food and consumer goods manufacturers by examining current changeover time and processes, production goals, capabilities of the various packaging machines on the line and the number of SKUs and package sizes that will be run.
For more information about Nercon Eng. & Mfg., Inc. and their offering in conveyor changeover, visit http://www.nercon.com.