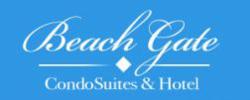 No other resort in Port Aransas captures tranquility and beauty quite like Beachgate.
Port Aransas, TX (PRWEB) September 17, 2012
Since opening in 1995, Beachgate CondoSuites & Hotel, a resort located in Port Aransas, TX, has become a well known destination for summer vacationers. Providing beach-front accommodations with an emphasis on service, the hotel offers a vacation experience not found anywhere else. After a very busy Summer, Beachgate CondoSuites & Hotel is expecting 2012 to be its busiest year ever.
Because Beachgate CondoSuites & Hotel is located right on the beautiful beaches of the Texas gulf coast, visitors are able to enjoy panoramic views from their rooms. These views, along with the easy beach access, are part of what has made 2012 such a successful year for the hotel. With eight different styles of accommodations, Beachgate CondoSuites & Hotel is able to host a variety of guests ranging from families and couples to individuals and groups.
After working for so long to become a sought-after vacation destination, would like to thank its many guests - both new and old - for making 2012 already so successful. As general manager Michael Kuhn says, "though we're always excited to welcome another new guest to the Beachgate family, we are especially grateful to our loyal repeat guests and the many friends and family they refer to us each year."
The reason for the hotel's growing success can be attributed to building a world-class staff to take care of its guests. Michael continues, "the most important reason our guests tell us they come back again and again is the great staff we have had for the last three or four years now." Reservations at Beachgate CondoSuites & Hotel are still available for July and August but are expected to fill up fast. For complete information about all the services and amenities that Beachgate CondoSuites & Hotel has to offer, visit their website at http://www.beachgate.com.
About the company:
Running parallel to the Gulf Coastline, Beachgate will allow guests to wriggle their toes in the sand in just a few small steps. While other resorts claim to be an affordable beach hotel or condos, none come as close as the Beachgate. Rather than building vertically like most high-rises in the area, the Beachgate opted to give their guests a nautical oasis right outside the door. Instead of having a long boardwalk to trek across, Beachgate provides a direct driveway to make adventures of happiness even nearer. Each beach condo rental or hotel rental is constructed like a home, giving you a private piece of warm gulf in your backyard. Though the accommodations vary by size to fit guests' individual needs and budget (there are different styles to choose from), all rooms have the same stunning beach access and serene atmosphere. No other resort in Port Aransas captures tranquility and Beauty quite like Beachgate. For more information visit their website at http://www.beachgate.com.