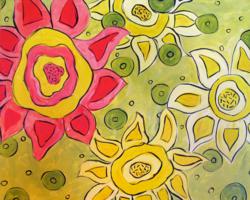 Palettes is a fun night out of eating, drinking, painting and laughing.
Natick, MA (PRWEB) September 15, 2012
Taste unique ice cider wines, nibble on artisan cheeses and learn how to paint fall flowers in a 70's inspired style. Palettes in Natick and Vermont's Eden Ice Cider Company team-up on Thursday, September 27th for a very special evening of eating drinking and painting. It's a fun night out, an art class and a party all-in-one.
Palettes, located at 29 Main Street in Natick, MA, is a night out experience. No painting experience is needed. One of Palettes' talented instructors will walk through the acrylic on canvas painting step-by-step while patron's enjoy a glass of wine, a craft beer or a house cordial as well as delicious nibbles. The featured painting, Fall Flowers, is a 70's inspired original painting by local Natick Artist and Palettes co-owner Denise Girardin. The tastings will start at 6:30pm and painting begins at 7pm.
Eden makes it's ice cider wine from traditional and heirloom varieties of apples grown Vermont. It's 100% apple - no added sugar or flavorings of any kind. Fresh cider is concentrated naturally by winter cold, then fermented to achieve an excellent balance of sweetness and acidity. Eleanor Leger, Eden Orchards owner, will talk about the unique wine making process as well as the artisan cheeses she will bring from Vermont. Eden is the winner of 8 gold medals. Arborway Imports is co-sponsor of the event.
Space is limited. For more information and to register visit http://www.palettesnatick.com and view the event calendar.