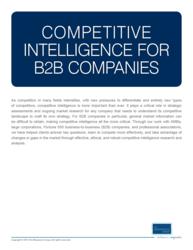 Toronto, Ontario (PRWEB) September 14, 2012
The Mezzanine Group's newest white paper outlines the importance of competitive intelligence for B2B companies and how it plays a critical role in strategic assessments and ongoing market research in order to develop sound business decisions.
The white paper, called "Competitive Intelligence for B2B Companies" will help B2B companies determine when they need to conduct competitive intelligence, how to effectively go about it and the importance of using a third party to conduct the research. It will also take a look at how to analyze the findings and determine implications to ensure all of the data is credible and consistent.
"As competition intensifies for many B2B companies and new pressures to differentiate increase, competitive intelligence is more important than ever," says Meredith Low, Vice President, Consulting at The Mezzanine Group. "We use competitive intelligence to provide compelling answers to our clients' key strategic questions by conducting effective, ethical and systematic research which can be used to suggest actions across the entire company."
The paper can be downloaded from the Mezzanine website at: http://bit.ly/QGolbV
About The Mezzanine Group
The Mezzanine Group is a Business to Business (B2B) Strategy and Marketing firm based in Toronto, Canada. For over a decade, Mezzanine has helped executives in small and mid-sized companies, large enterprises and professional associations to improve the function and performance of their marketing through market intelligence, marketing strategy and execution. Mezzanine has twice been named to the PROFIT 100, Canada's definitive list of fast growing companies.
For more information about The Mezzanine Group visit http://www.themezzaninegroup.com or contact us at (416) 598-4684 | info (at) themezzaninegroup (dot) com.
Copyright (C) 2012 The Mezzanine Group. All rights reserved.