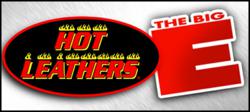 Manchester, CT (PRWEB) September 13, 2012
Hot Leathers, the industry leader in motorcycle apparel and accessories, motors into West Springfield, Massachusetts this weekend for The Big E Eastern States Exposition & Fairgrounds. During 2 weeks full of events and activities September 14th – 30th, you can be sure that Hot Leathers will have all The Big E gear you need. Come join us for the largest fair in the Northwest and experience authentic18th and 19th century buildings from Massachusetts history at the Storrowton Village.
Hot Leathers is proud to be a vendor at The Big E, which promises to be an amazing experience for people from all over the U.S. You'll find an impressive array events and entertainment throughout the week. Enjoy the Big E Super Circus with the Big E Thrill Riders and their "Sphere of Fear" or The Marinoffs' aerial stunts. Check out one of the three horse shows and experience the magic of seeing beautiful show horses in action. Get your tickets for performances by Rodney Atkins, Alan Jackson, or comedian Jeff Dunham. Don't forget to visit the many vendor areas to find your Hot Leathers gear and more.
The Big E hours are 9:00 a.m. – 10:00 p.m. Saturday September 14th – 30th. Single tickets and ticket packages to The Big E are available on their website, and separate fees for events and entertainment will vary.
The Big E, the largest fair in the Northeast, is home to The Big E Cream Puff & Craz-E Burger. It's a New England extravaganza with top name entertainment, The Big E Super Circus, The Avenue of States, Storrowton Village Museum, animals, competitive exhibits, rides, shopping, crafts, a daily parade and a Mardi Gras parade, and foods from around the world —- for 17 days each September! It's the last blast of summer — celebrate at The Big E in West Springfield, Massachusetts!
Hot Leathers' impressive selection of merchandise will be showcased at featured locations throughout the event so bikers can find great merchandise and ride in style everywhere they go. Wherever you find yourself during The Big E, a Hot Leathers location is sure to be nearby. So if you're planning on heading to West Springfield for all the festivities, make sure to keep an eye out for the distinctive and sizzling styles of Hot Leathers one-of-a-kind merchandise.
Hot Leathers has been serving the motorcycle community for more than 25 years and is the leading motorcycle apparel and merchandiser in the country. Want to stay updated on all the Hot Leathers events, specials, follow the Hot Leathers trailers around the country and get the first glimpses of Officially Licensed Merchandise? Then be sure to "Like" Hot Leathers on their Facebook Page at https://www.facebook.com/hotleathers. You can also follow them on Twitter at http://twitter.com/HotLeathers.