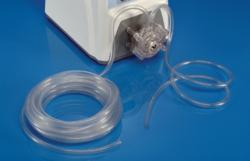 Vernon Hills, IL (PRWEB) September 13, 2012
The new Masterflex® Tygon® E-LFL Tubing from Cole-Parmer is now available for use in Masterflex peristaltic pumps. This new Tygon tubing formulation is replacing the discontinued Masterflex LFL tubing from Cole-Parmer. The transparent tubing offers similar chemical resistance, purity, and long pumping life to its predecessor. Use it in a variety of biological, pharmaceutical, and chemical processes.
The new non-DEHP E-LFL tubing offers a BPA- or phthalate-free formulation to respond to changing world concerns. A new bio-based material used in the softening step of the E-LFL tubing meets many global regulations, including USP Class VI, EP 3.2.9, and FDA criteria. The tubing is also expected to meet European Food directives based on current test results. Samples, a complete validation binder, and compliance certificates are available for the new Masterflex Tygon E-LFL tubing.
For more information about the Masterflex® Tygon® E-LFL Tubing, call 866-802-2582 or visit ColeParmer.com/19448.
Cole-Parmer has been a leading global source of laboratory and industrial fluid handling products, instrumentation, equipment, and supplies since 1955. Our product lines, including popular brand names such as Masterflex®, Oakton®, and more, are sold through company-owned customer channel outlets and a strong network of international dealers. We also feature an ISO-17025-accredited metrology lab for instrument calibration and repair. Cole-Parmer responds with excellence to customer needs, and offers application expertise and technical support. For more information, contact Cole-Parmer, 625 East Bunker Court, Vernon Hills, IL 60061. In the US, call 800-323-4340. International customers, call 847-549-7600. Visit us at http://www.coleparmer.com.