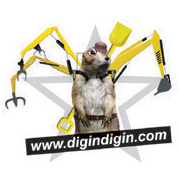 Montreal, Quebec (PRWEB) September 13, 2012
Digindigin.com, an online design company is now offering logo design packages. The packages are going to be availed to the customers at a discounted price. The price is reduced to an affordable rate to enable all the clients to receive the high quality design services offered by the company. The company has a team of highly qualified designers who have accumulated experience over many years in what they do best; offering quality designs. The designers work closely with the customers to enable them get to understand the customers' requirements. The designers are able to offer the customized logo designs according to the client's specifications and submit them on time. Digindigin.com is committed to serving its customers to the best which makes it stand out from the rest in online design.
Unlike other design companies, digindigin.com offers their services at a pocket friendly price. The price is set as low as possible to make it affordable to all the customers despite their levels of income. The company has a large team of designers who enables it to handle the large logo design orders. The company has a customer service desk that is always ready to offer help to the customers. The customer care desk works round the clock to ensure that all the customers' needs are met. Customers who want to make enquiries regarding the company can have them addressed by the customer care desk. The customers are accorded first class attention to enable them make informed decisions.
Customers who may want more information about the company or the logo design can log into the company's website http://www.digindigin.com/. The website has a very simple user interface which makes it simple for the customer to navigate through it. The customer will be able to make enquiries by filling in the enquiries form and the customer care desk will reply them in the soonest time possible. On the company's website, the customers also get to see the various logo design packages offered by the company and the rates at which they are offered. The customers can be able to make the orders for logo design by filling in the order form on the company's website.
About Digindigin.com
Digindigin.com is an online design company based in Canada. The company is well known for production of quality online designs. The company boasts for having a pool of professional designers who have wealth of experience and competence in designing. Using the state of art technology, the designers are able to provide the clients with customized designs to meet their expectations. The design company is part of the famous 123inkcartridges.ca that specializes in printers and computer accessories.